ideeli.com, a member's only shopping, with a fellow fashion blog, recently partnered with New York Times Best Selling author Tory Johnson and scoured the country to find and celebrate the top women entrepreneurs. Contestants were asked to share their stories and were separated into several categories: home decor, accessories, and apparel. Over 5.6 million people voted for their favorites. Three winners were chosen, one of them being Tomboy Tools from right here in Denver, CO!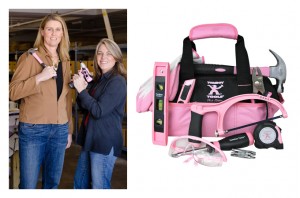 Tomboy Tools is "the only provider of hands-on education and high-quality tools for women" and was named one of  Entrepreneur Magazine's Top 100 Brilliant Companies. Created by Janet Rickstrew and Mary Tatum in 2001, Tomboy Tools offers women a fun, feminine way to learn how to use all kinds of tools and way to fix-it around the house themselves.
Along with educating women and girls on how to use tools and do-it-yourself techniques, Tomboy Tools promotes "PINK for a Purpose" which provides support to breast cancer research.  The ladies recently partnered with Paige Hennis, of Extreme Makeover Home Edition to raise awareness of their products and their mission.
With Christmas being just around the corner, a pink garden tool set or multi-purpose craft  line kit would be a great gift for Mom, Auntie, or Grandma. Tomboy Tools offers women the opportunity to host tool parties—a modern twist to the classic "Tupperware party". If you're interested in hosting one, call up your gals and book one at  http://www.tomboytools.com/!
Winners of ideeli's "Best in Shop" will work with small business champion Tory Johnson and the ideeli team to boost sales by featuring each line in a special fall edition of ideeli's "Tory's Shop" on ABC's "Good Morning America". For more information on ideeli's complete list of "Best in Shop" winners, visit www.ideali.com. Keep up the good work ladies!