FirstClassFashionista would like to invite you to shop: DesignerClothes@FirstClassFashionista
DesignerShoes@FirstClassFashionista
DesignerHandbags@FirstClassFashionista
*BOOKMARK THIS SITE* Official Celebrity Fashion and Gossip Website
Lipstick Jungle Season 2 (ep. 2) Chapter 9 Highlights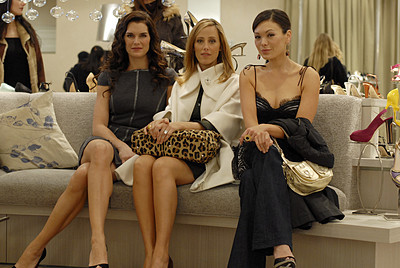 Here is where you can tell fans what you think. Share a comment with thousands of visitors…Let's talk story lines OR let's talk fashion. You start the conversation. *Copyright Protected. First Class Fashionista permits a direct link and credit.
Let's see…So you missed this episode and you want to know what is going on with Nico, Wendy, and Victoria.
Victoria: Hires a new contractor and sparks seem to fly from the very beginning. Now she is dating her contractor.
Nico:Kirby takes Nico to a Swap-A-Palooza. Very interesting! When the signal is sounded, the guest exchange clothes. Lots of kissing between these two leads sex in the back of the club-outside.
The other woman shows up on Nico's job and asks to be cared for in a manner in which she had been accustomed. Nico counters, however, that she will receive what is legally allotted to her and nothing more. Later, Nico remembers what she had sacrificed for her husband at such a young age and decided to help the very young and naive 22 year old girl that is expecting her deceased husband's baby.
Wendy: Wendy may find herself in hot water soon. An actor/friend was diagnosed with brain cancer. He tells Wendy that he is unable to take the role in a John Lennon movie. Wendy thinks it's because of personally problems, so she demands that he gets his act together. Later, she finds out he has brain cancer and that it is really his dream to perform in this movie. She signs the insurance waiver herself.
*I really loved Victoria's Fendi Handbag and you probably do too. Check out the Fendi handbags below.