Lifetime releases promo for Liz & Dick featuring Lindsay Lohan.
Is Lindsay Lohan the modern day Elizabeth Taylor? Lohan's co-star in the upcoming bio-flick seems to think so. Grant Bowler who plays Elizabeth's long time love interest, Richard Burton, seems to think so. He even went as far as to say, "She's pretty much Elizabeth Taylor reincarnated."
Just recently Lifetime released a promo featuring recent media snippets of Lohan's very public life, along with interviews from both lead actors. So, has Lohan made her comeback to the actress that America fell in love with? It seemed that things were starting to look up for the 26-year-old when she scored the lead role in the made for TV movie, but recent events seem to not be going in her favor.
On September 19, Lindsay was accused of hitting a pedestrian in New York and fleeing the scene of the accident. The victim later came forward to turn in her plates and Lohan was arrested, charged with a misdemeanor and later released. It looks like Lohan can't seem escape her troubled past, but we hope that the release of her new project will exceed expectations.
Liz & Dick will debut on Lifetime network in November.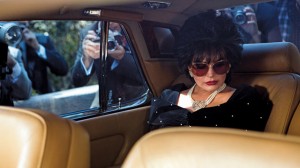 The press images that were released earlier this year show Lohan as a carbon copy of the iconic Taylor.
Enjoy the movie clip from Lifetime.