Much of today's fashion is influenced by the media. Many actors and singers have now begun to enter the world of fashion by endorsing products, and even releasing their own lines. Celebrities have always been the faces of fashion, and the inspiration for many of the current trends in the fashion industry. Proof of this has been documented throughout the history of Hollywood with the infamous question, "Who are you wearing?" Since the designers of the fashion world have just released their new Fall/Winter collections, the public is clamoring to see what the celebrities are wearing.
Gentlemen, you always read about the women and the "award show" articles describing the best and worst dressed of the season or event; we at First Class Fashionista believe that you, men, deserve to read about and see fashionable MEN, and discover what you should be wearing. To help you guys out, here are some of the most fashionable men in 2012.
David Beckham
Not just a soccer phenomenon or husband of former Spice Girl Victoria Beckham, he is one of the best dressed men. Combining the European clean lines with the fashionable grunge trend, David Beckham creates his own personal style. There is a reason he was awarded the "That's How I Roll" award at Cartoon Network's Hall of Game Awards. This award, in other words, is a "best dressed" award. So men, if you dig his style, here are some styling tips to model your style after him.
1. Accessories are your best friend: Beckham is known to wear a variety of "shwag" such as knit hats, metallic, large-faced watches, leather belts, wallet chains and newsboy hats.
2. Grungy is sexy: One of David's calling cards is his grunge. He is often seen and photographed in worn, stone-washed jeans. Another signature of Beckham is one side of his shirt tucked in and the other hanging free. This gives off the vibe of aloofness, which contributes to that "bad boy" image, a style highly sought after in the fashion industry.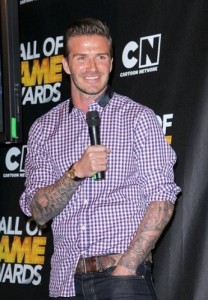 David Beckham at the Hall of Game Awards
ASAP Rocky
As an emerging rap artist, ASAP Rocky has made a name for himself and stamped his mark in the fashion industry. Pulling influence from grunge and popular street style,  he creates a look that many of today's rap stars are taking part in. To get his street "swag", here are his calling cards.
1. When the garment is simple, it better have a busy print: Tank tops are a staple in any fashionable rapper's wardrobe. Tank tops can read as boring and not creative; so instead of buying that basic, solid color tank, buy one that has a large, chaotic print. This will draw attention to a simple outfit. The same could be said about any "simple" garments, even shorts.
2. Wear only one statement piece: Although ASAP Rocky wears bold colors and prints, only ONE of his garments generally has a "pop" color or print. For example, the busy printed tank could be paired with some mute colored denim, skinny jeans. Don't assault your friend's eyes with too much color or print.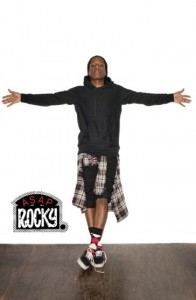 ASAP Rocky's "Happy Socks" Advertisement
Sean Combs
The former rap star has quickly become a household name in the fashion world. An icon in fashion, he has released his own fashion lines and is possibly one of the best dressed men at formal events. Let's face it guys, there are times when we have to turn off the street style and rock the button up shirt and slacks. No one (in my personal opinion) does this better than Sean "Puffy" Combs. Here's how to rock it like Puff Daddy.
1. Stick with mute colors: Some colors that should be a staple in every formal outfit are blacks and whites. It's okay to wear some color but keep those colors muted. For example, instead of a purple shirt, wear a darker burgundy color. Muted colors read as conservative and by extension are seen as the classier colors.
2. Wear clothes that fit: Sean Combs wears clothes that are tailored to his body, and while most of us can't afford to have suits made for our body types, you should try and find the suit jacket, slacks and a button-up shirt that fits. That probably means you will have to go to more than ONE store. Also, check to see if alterations services are available where you are shopping. Nothing is sexier than a man who has clothes that fit his body, showing it off or hiding those imperfections that he isn't happy with.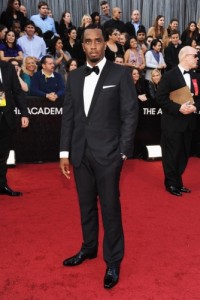 Sean "Puffy" Combs at the 84th Academy Awards