Style Confusion: What to Do When You Can't Decide
Do you ever just wake up in the morning and have so many great outfits in mind that you don't know which one to choose? That happened to me this morning. I was dying to to wear my thrifted Yves Saint Laurent blouse, but at the same time was ready to throw on my tailored sweatpants. After much debating, I decided why not try both! It felt a little odd, but then I threw a blazer on top and was out the door.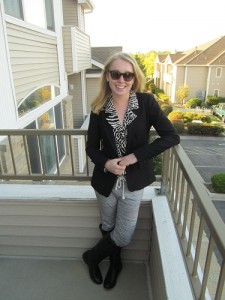 The moral of the story? When you can't decide, mix and match contrasting pieces. Pair a chunky sweater with a skirt or tuck a dress into a pair of pants (trust me it actually turns out pretty well). Then add accessories to balance the outfit. Statement necklaces, circle scarves or a sequin clutch. That's the thing about fashion, it's supposed to fun. There is no set way of doing things, you just have to style it your way.
To keep up with the day to day musings of Megan, follow her at msmegantimlin.com.