Jeffrey Campbell's Heels for Men
What we love about fashion is those few designers who take trends to the extreme, or even defy them. Although not considered fashionable, one has to look at these brave designers with reverence because they could be projecting a trend from the future. I have always been a huge fan of the shoe designer Jeffrey Campbell, and while his women's shoe lines are extravagant, his men's lines have never really amazed me in terms of being avant-garde. However, I was patrolling his website like I usually do and came across his new men's line for 2012. WOW. The line included men's HEELS. Now I know men have worn what we might call "dress heels" but these are full on heels.
The collection is called "The Damned".  Made for the fashion forward and frankly, wealthier man, these shoes are a statement piece with an air of vintage about them.  Most of the shoes in this collection look as though he pulled inspiration from one time period. That being the 1970's. Many people might not know this, but a major fashion movement called the "punk" started in the 70s. Think of Sid and Nancy. Sid Vicious (bassist for the "Sex Pistols") and Nancy Spungen (Sid's girlfriend) were the quintessential definition of what it was to be a punk. The punks were all about anarchy, leather, cheetah print, chains and spikes. Campbell seems to have included all of these elements in this collection.
Here are some photos: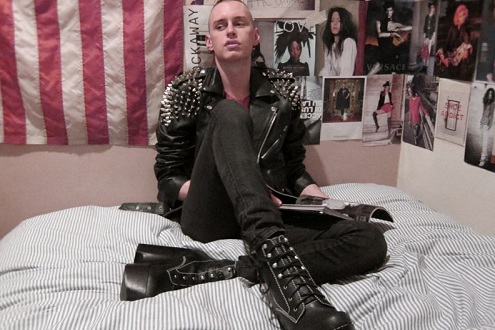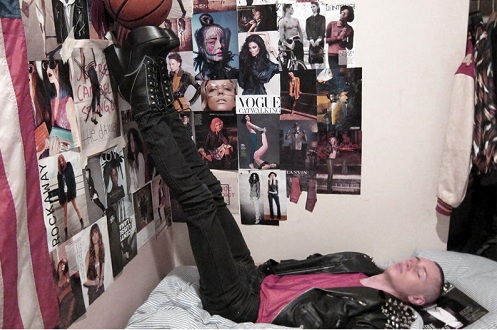 You're probably thinking the same thing I was. Maybe it's a man wearing a women's wedge heel. Actually, it is not. This is a shoe from "the Damned".  These shoes are called "Tardy-Man". Some people might call this crazy and too avant-garde for the fashion buyer. And, the fact is, they're right. The only men I've seen wear high heels recently are drag queens. Honestly, as for him being a mainstream trendsetter for men's high heels, I'm going with, no. However, these shoes are for sale at www.solestruck.com for $219.95.
The thing is, men actually did wear high heeled shoes in the past. One of the most talked about time periods was in the early 1700's, during the reign of King Louis XIV who was known to wear highly decorated heeled shoes. Nonetheless, high heels have had such a feminine connotation for so long, that it's doubtful that these shoes will ever be brought back into mainstream male fashion.
When considering what will be in fashion or not, one has got to think about the designer involved. Jeffrey Campbell's shoes are notorious for being some of the most avant-garde pieces, which would only be worn by people like Lady Gaga. So, when its comes to the "The Damned" collection, it probably was not in Cambell's goals to have the shoes be widely accepted. With this new punk inspired line, it seems that he took not only the general aesthetic of this anarchist group, but he also really took on the attitude of its creators as well.
Whether you would wear his shoes or not, you must respect him as a designer for being one of the few to keep the theatrics alive in the fashion industry. You can see all of Jeffrey Campbell's collections at: http://www.jeffreycampbellshoes.com.