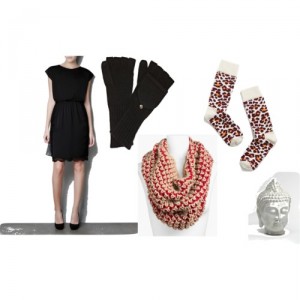 1. Little Black Dress
Okay, let's be honest, this is one of my essentials for every season. However, this is my favorite time of the year to break one out. A little black dress can be styled for a casual day of classes or a night out on the town. Mix and match any of the essentials below to achieve your desired look!
2. Tweeting Gloves
One of DKNY PR girl's favorite accessory. I've owned my pair for two years now and I don't go anywhere without them. I'm always emailing, texing, tweeting, or choosing music on the go and I can't let my hands suffer the frigid consequences.
3. Socks
Not just any socks, colorful socks! From the second I walked into Madewell earlier this season I knew fun socks were a must. Whether you have high boots or low boots, they have a variety of patterned and colored socks to adorn your legs with.
4. Circle Scarf
As seen in my earlier post "Mixing Masculine and Feminine", I love my circle scarf. Even more in season this year than last, the circle scarf is the perfect layering piece for cold mornings and nights, and even somewhat warmer days. I suggest picking a color that works well for the majority of your outfits because you'll wonder what you ever did without one of these before this worthwhile purchase.
5. Thai Food Menu
Not a fashion essential, but a life essential. On those cold nights where you just want to cuddle by the fire place with a good book or movie, ordering in is the obvious decision. My favorite is Thai food. I've been trying different places in Colorado for the last few months and have compiled a short list of my favorites.
1. J'a Noodles and New Thai – Denver, Colorado
2. Bann Authentic Thai – Fort Collins, Colorado
3. Cafe de Bangok – Fort Collins, Colorado
4. Sri Thai – Fort Collins, Colorado
Fashion is a lifestyle!