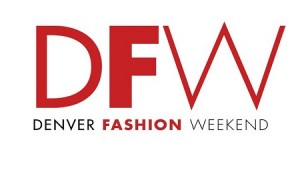 This past weekend, 303 Magazine & Schomp Mini presented Denver Fashion Weekend 2012 at City Hall Ampitheatre. As a writer for First Class Fashionista, I was fortunate enough to attend; and, it being my first fashion show, I didn't know what to expect. I had the time of my life! Between meeting a bunch of different people, getting my picture taken on the red carpet and, of course, experiencing all the amazing designers and models, I felt very much in my element. The venue was intimate, but a lot of people were there for the event. The runway was set with pink and purple lights and a jumbotron flashing the name of the designer's brands, as well as the makeup artists and body painters.
The show began with the runway presentations at around 9:00 PM. The same models were used for each of the designers, so the hair and makeup stayed the same throughout the show. The models' hair was parted down the middle and straightened, and the main component of the makeup was a very dark plum lip. Up first was Kid Dangerous, a grime couture line, which featured a lot of brightly colored tees and leggings. Kid Dangerous' pieces can be found in Bloomingdales, Nordstrom, Urban Outfitters and many more boutiques and department stores in the US and worldwide. Kitty Mae Millnery came on next. This line featured a ton of funky hats paired with little black dresses. Located downtown Denver, Kitty Mae Millinery sells beautiful hats and accessories created by local artists. Following the hats was Handbags.com. Models in LBDs carried big handbags in nudes, metallics, as well as bright orange and yellow. Like the name says, these handbags can be purchased online.
50 Dresses was featured as well. These dresses are inspired by a classic look but updated for a contemporary world. This particular collection included a lot of navys and blacks, and patterns such as polka dots, stripes, and skulls. They also included a lot of cheetah print, and high-waisted cuts, which is a flattering look on every woman. My favorite dress in this collection was a peach baby doll dress that looked flawless on the model.
The final designer was Moxie, a local boutique based out of Greenwood Village, Colorado. This collection featured a lot of fall looks with leather, sweaters, layering and lots of black. Many of the fabrics were sheer and the collection showcased a lot of pattern mixing as well as deep reds, which is a very popular color for fall right now.
After a quick intermission, the beauty and makeup show began. There were 7 looks and each of these looks were inspired by famous, well known pieces of art. The majority of the models acted as the canvas for the art, and were painted from head to toe. One model was painted as Van Gogh's Starry Night, and another as Andy Warhol's Queen Elizabeth. This was by far my favorite part of the show, and only the pictures will really give a feel for what it was like.
Overall, this experience was very educational as well as entertaining for me. The hair and makeup was done wonderfully and the collections were perfect for fall. 303 Magazine put on a wonderful presentation and I cant wait to go back next year!
Enjoy the video and pics below!