A Night To Remember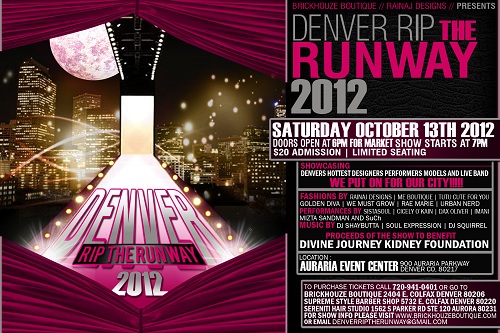 The Auraria Event Center was poppin' Saturday night for Denver Rip the Runway. The house was packed for this one of a kind event benefiting Divine Journey Inc. Kidney Project, a non-profit organization that financially assists healthy kidney donors after donation. Rip the Runway showcased Denver's hottest performers and designers, and each collection was paired with a live performance. Two presentations were featured from each designer.
The show kicked off with a dance performance by Syeeda Keith and little models showing off Tutu Cute 4 U tutus. This collection displayed tutus in pastel and dark hues, embellished with Sesame Street characters, as well as lady bugs and bumble bees.
SuCh performed next while Fashions by Cleo Ortiz graced the runway. Her first collection displayed an array of designs including velvet, fur and knit. The second set accompanied by SistaSoul mixed it up with darker shades, leather and stripes. My favorite look was the deep turquoise pencil skirt set and jacket. The models were fierce and the outfits were trendy and classy.
Fashions by Rae Marie never disappoints. Dax Oliver covered Kelly Clarkson's Miss Independent, which was a great choice for this set. Rae Marie's designs are always bold and chic. First up, was a color combination of black, white and chartreuse. The peplum top was my favorite. The second set was a continuation of the first with a similar set of colors, prints and a fabulously tailored pair of satin trousers.
The theme of simplicity and elegance appeared on the runway with the first We Must Grow collection. Featuring a variety of dresses with subtle floral patterns. Miss Cicely O'Kain sang for the first collection and SuCh returned to the stage for the second. The next set of designs proved to be very different from the first with a combination of colorful prints in both formal and casual attire. Perfect for the everyday woman.
GoldenDiva brought the sexy train to the stage with a line of fierce models taking black and pops of color to a new level. The first presentation was a bit edgier with a leather top and dress and a couple of black dresses. Second, was a diverse set of blue satin, a colorful train dress and a couple of short formal dresses. Cicely O'Kain returned to the stage for these presentations, singing original songs from her album.
To finish up the first half of the show was Rainaj Designs, one of the sponsors for the evening, accompanied by Mizta Sandman. Their "Ready to Wear, Anywhere" collection was a well-designed line of black and white patterns in the form of flattering tops with open backs. To conclude the show, co-sponsor The Brickhouze Boutique presented a co-ed line. Male models walked the runway in street style apparel, while the female models were dressed in both casual wear and business chic. The crowd was raving by the end as Dax Oliver closed the show.
We asked designer Rae Marie Hurst which line she liked the best. She told us,  "I loved Goldie's a lot….She puts very interesting textures and colors together and that is something I like to do with my own collections as well. Cleo was amazing too, she has such a unique aesthetic and it is so grown up but so fun and glamorous. Tasha's collection looked great and was made for real women of today and everyone looked good in her pieces! But I was most impressed by the 14 year old that made the tutus! She was darling and following her dreams. It inspires me to see so many talented women working hard and following their dreams in one show! I was honored to be a part of it."
There you have it ladies and gentlemen! Denver Rip the Runway was a great event emphasizing the importance of supporting local designers, a good cause and the general Denver community.
Enjoy the video and pics below!