This year Halloween is on a Wednesday, so most of the festivities will take place the weekend before. I feel that a good Halloween costume takes at least two weeks to conceptualize and bring to fruition. Hence, the reason why this week's article is on Halloween Costumes.
Men, our Halloween costumes tend to be the same every year! Let's get creative and come up with something new and original. Women put tons of effort into their costumes, complete with the perfect makeup and hair. They must take, at least, twice as long as the guys to get ready. Doing some research on some of the most popular destinations to shop for men's costumes, all I came up with is JUNK. Everyone likes a good costume, and you may have to search high and low for the one that is right for you. The same as every other day of the year, a person who puts a lot of effort into their looks will likely standout and get noticed more. Guys here are some thoughts to consider when choosing your Halloween costume this year.
1. Dress Age Appropriate:
A recent trend in the costume world is dressing up like the "Avengers". Lame. Guys, first off, you are not twelve! I was a superhero in 1994. Not that I'm saying you should dress up like a walking innuendo (which I discuss later) but please wear an age appropriate costume.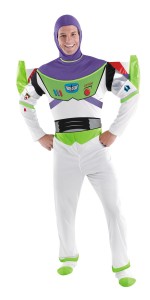 2. Don't wear something YOU think is funny:
Another difference that I noticed between guys costumes and girls is that girls costumes tend to be legitimate. A lot of costumes for guys are either sexual innuendos or cheesy jokes. Guys let me clue you in, the inflatable fat suit IS NOT FUNNY. One costume I saw that was APPALLING was a man's costume that was a giant breast. Guys do not wear one of these, women will avoid you, parents and children will avoid you, and it will turn out to be a very lonely Halloween for you.
3. Be Creative or be Lazy, but DO NOT BE CREATIVELY LAZY:
One of the biggest trends I am seeing in not only the male but the female costume industry too, are costume printed t-shirts. These are the tackiest things to happen to costumes ever! It says a person is either "too cool" to wear a costume or didn't want to put forth the effort. I would rather see a person who is not dressed up, than someone who thought they could get away with being "creatively lazy".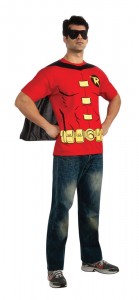 4. BE ORIGINAL:
Guys, it's okay to walk around the Halloween stores and get ideas, I do it too! But if you buy a costume at one of these stores, know that forty-five other guys will be dressed exactly the same. People are naturally attracted to the unique and if your goal isn't to be unique, then why dress up for Halloween?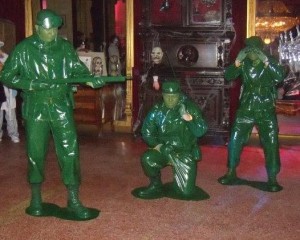 Tell us what you think. Do you have your costume already?