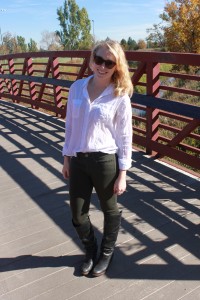 Today, my ensemble was inspired by the ever so trending equestrian style. This refined look, in my opinion, is better than the preppy look and is a powerful way to look sharp in the midst of fall. And, since, I was lacking the many essentials to complete this look; I stuck to my Frye boots, riding pants and a button up for the day. Besides the Fall 2013 runway shows, for this outfit, I spent some time observing my horse riding friends here in Fort Collins, Colorado for inspiration. As a result, I decided to compile a list of the 8 essentials to achieving the classic equestrian style with you, First Class Fashionista's valued readers.
Riding boots: My personal favorite is anything Fry or, other than that, tall and thick leather boots are ideal.
Riding pants: They should be tight fitting, and make sure you pick a fabric that doesn't rub.
Turtleneck: A turtleneck will help keep warm, of course.
Scarf: A scarf can serve two purposes. Make it cute, and try adding a pop of color
Tweed jacket: A tweed jacket completes the equestrian look, and you'll find layering is important.
Aviators: These fashion must-haves protect the eyes, and make sure the lenses are polarized
Tote: Every equestrian carries their belongings in style.
Gloves: Gloves are equestrian essentials. They keep your hands warm and are practical as they protected the hands from the rein.s
These essentials and tips are a fusion of fashion conscious idea from an equestrian point of view. Below, is a picture of my friend Krista riding her horse in style, my inspiration for the equestrian set.