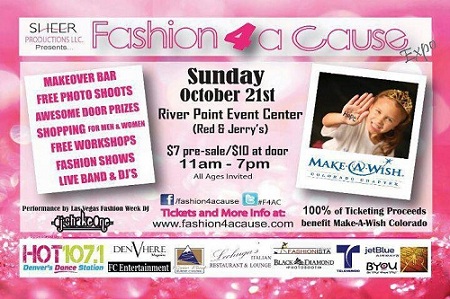 Do you love fashion, especially when it's supporting a great cause? On Sunday, Oct. 21, the first annual Fashion 4 a Cause presented by Sheer Productions, owned and operated by 27-year-old Liz Pineda and 28-year-old Tiffany Pineda, will offer a unique and interactive experience for every member of the family. Taking place at the River Point Event Center in Sheridan Colo., from 11 A.M. to 7 P.M., one hundred percent of the ticketing will benefit Make a Wish Colorado. Since 1983, Denver's non-profit chapter has full-filled over 3,500 wishes made by children with a life-threatening medical condition.
Hosted by the lovely Karizma Vox, the expo style event will feature the following: fun activities for kids, shopping, hourly runway shows, live musical performances, live comedy, free workshops, makeover stations, free photo shoots and more. Additionally, Fashion 4 a Cause door prizes will include two round-trip tickets to any destination in the United States, complimentary of Jet Blue.
For more information and to purchase tickets, visit www.fashion4acause.com. Use the FCFcares discount code to receive $2.00 off pre-sale general admission.
This article was also published at Examiner.com. 10/23/12 Update: Fashion 4 a Cause review.