These Are a Few of My Favorite Things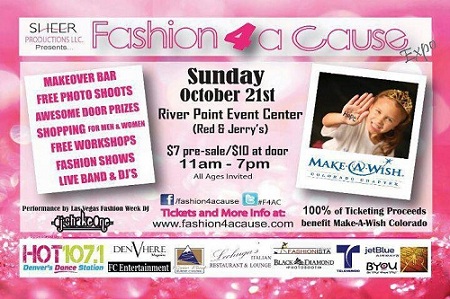 What is better than a fashion show? A fashion show for charity! Last weekend (as you may have read here, on FirstClassFashionista.com) was the first annual Fashion 4 a Cause. To recap, this was an expo style event with various vendors and designers who all came together to benefit the well-known charity called, Make a Wish Foundation. 100% of the ticket proceeds went to this non-profit organization. The event was put on by "Sheer Productions, LLC", which is run by two entrepreneurial inclined women, Liz and Tiffany Pineda.
First Class Fashionista sponsored F4aC, so I was lucky enough to attend this event and become a part of Colorado history. I'm sure my readers know Oprah Winfrey and her Christmas special, "Oprah's Favorite Things", well this write up will follow in those footsteps and take a look at MY favorite things of this year's event.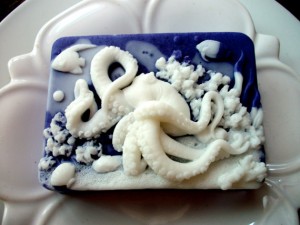 1. The Charming Frog:
The event was about fashion; however, there were a few vendors there that wasn't exactly apparel related. The Charming Frog is a Colorado company based in Colorado Springs that creates sculpted soaps. I couldn't believe my eyes. There was soaps that ranged from horses to motorcycles to Frankenstein and all the in between. It seemed as though they had a soap for any occasion and, if they don't, they do CUSTOM designed soaps. One of the more brilliant ideas displayed at this particular booth was something called felted soap. Now, I know little to nothing about soap, I usually pick the cheapest body wash at the supermarket and move on. But this felted soap was GENIUS. It was a bar of their homemade soap wrapped in a semi-course fabric that was designed to exfoliate your skin and the soap inside shrinks and shrinks. Then, the fabric becomes a shell. But wait! Don't throw it away because you can stuff potpourri in it! When I inquired as to where all these soap sculptures are produced, the designer answered "It's all done in my house!"  Multifaceted, truly original and artistic, these soaps look like they're carved by sculptors but made with the love of homemade items.
Visit The Charming Frog at www.thecharmingfrog.etsy.com and www.facebook.com/TheCharmingFrog.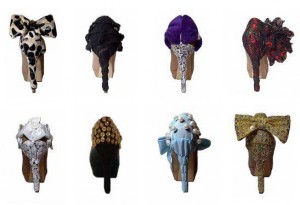 2. Heel Condoms:
Sounds gross, I know, but this could very well be the invention of the CENTURY! Let me explain what they are. They're shoe accessories that fit on any heel in a girls closet and these accessories are designed to change the look of the shoe! Sandra Ortiz of Puerto Rico is the designer behind these crazy shoe things! I was there to witness a fashion show where all the models were wearing a different kind of heel; some block heels, some pumps (all basic and a solid color) but with a heel condom added to them, they all of a sudden became a statement shoe, creating an Avant-Garde look. I always like to check out new products because then you could be that person who says "I saw / wore them before and they are way cool."
Visit Heel Condoms at www.theheelcondoms.com, and http://www.facebook.com/HeelCondoms.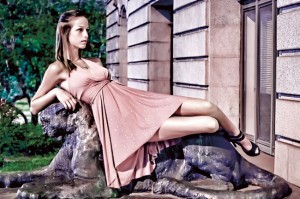 3. Gabriela Martinez Fashion Show:
Probably the most anticipated event of the evening was the Gabriela Martinez fashion show. First of all, if you don't know her and you live in Denver, Colorado, GET TO KNOW HER. She is HUGE in Denver and for good reason to. Moving from Mexico to Denver to pursue her career as a designer, Gabriela now produces some of the most gorgeous and elegant designs seen on the Denver Fashion circuit; and this presentation there was no exception. Her silhouettes were very reminiscent of Hollywood in the 1940's. Luxurious velvet and silver reflective fabric were just some of the fabrics used to create this eclectic yet cohesive line. My favorite look from the runway was the last long, duster-type dress that looked like it was made from a fine silk or another lightweight, flowing woven. It had this graphic on it that matched up perfectly on the models center front. The embroidered lines also matched up and created a perfect division within the garment, adding an interesting couture feel to the dress.
Visit Gabriela Designs at http://gabrieladesignsdenver.com/, and www.facebook.com/GabrielaDesignsDenver.
In the video and pics of this event, you will see the following shows in this order: Heel Condoms, Urban Arkanum, Brave American Hero, Top Notch Designs and finally Gabriela Matinez. Below, are my thoughts on the other shows that didn't make my These Are a Few of My Favorite Things list, but definitely deserve applause.
Urban Arkanum:
This line of clothing designed by Anubis Heru focuses on ancient Egyptian symbols of life and positivity. This company has a beautiful story that almost ended in tragedy for the owner of the company. A brain tumor nearly took Heru's life and now he is seizing life by the horns and living it to the fullest. The line featured both women's and men's wear. It included many basic pieces, such as t-shirts and jackets but what made the tees unique were the graphic prints, ancient Egyptian hieroglyphics and various symbols reinforcing the companies message of life and hope.
Brave American Hero:
This company carries with it a message I fully support as a citizen of the United States. They strive to keep all of their production and printing within the U.S., localizing the economy in their area. They have collaborated with up and coming athletes, artists and business owners, trying to capture the very essence of the fabric of the United States.
Top Notch Designs:
During this show I turned to Lonza (creative director and owner of First Class Fashionista) and told her that anyone who can produce a line deserves applause. This show was honestly an obvious labor of love. The designs centered around trendy club/evening wear. Colorful and bright, this line really spoke to the eccentric voice of the designer.
There was a lot to take in and share with you, so I hope you enjoyed reading "MY Fashion 4 a Cause Favorite Things". I look forward to attending the 2nd Annual Fashion 4 a Cause!
Enjoy the video and the pics below!