Over the last year I have developed a love for Iris Apfel, 91 year old NYC fashion icon and self-described geriatric starlet. The joy and inspiration this woman brings to everyone around her through her clothing and personality is astounding. Thursday I was at home in Denver drying my hair and my mom screams, "Hurry come quick, Iris is on the Today Show!" I run into her room and plop myself right on her bed to watch this interview with the author of the book called "Advanced Style", Iris and two other fabulous ladies, Ilona Royce Smithkin and Lynn Dell. This began my love for Advanced Style.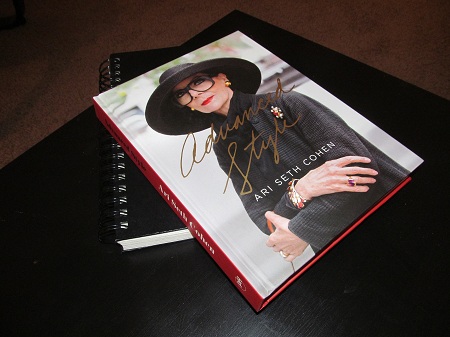 According to the interview and his book, author Ari Seth Cohen grew up very close to his grandmother, and this is what inspired him to capture the older women of New York City all dressed up. During the segment, Iris and the others expressed that older women tend to feel invisible after a certain age. Not only that, but the fashion industry often neglects this large market.
Cohen believes that the women he captures "challenge stereotypical views on age and aging" (Advanced Style, 2012).
Needless to say, I picked up "Advanced Style" the next day. Of what I've read and looked at so far, I'm inspired. Like the spirited Iris Apfel, spunky redhead Ilona Royce Smithkin, and colorfully classy Lynn Dell, the women in his photographs are vivacious and creatively expressive. The personal style of these grand dames not only reveals their fun personalities, but their gorgeous souls as well.
I recommend that you watch the interview and pick up the book if you're interested in viewing these outrageously fabulous women. Cohen also has an "Advanced Style" blog.
Interview video at www.huffingtonpost.com