In the midst of political debates and foreign policy friction, there is one constant that seems to be a recurring topic. Whether you vote Republican or Democratic, you can't deny that the ladies standing beside their candidates have some serious style. Over the last few years more than a few parties have taken note of Michelle Obama's chic yet highly affordable style. Known for her budget friendly wardrobe, the first lady is a regular in J.Crew, Gap, White House Black Market and even cult favorite, H&M.
However, there's another stylish lady hitting the campaign trail these days. Ann Romney has caught the eyes of many for her pricey designer duds and on-trend attire. Ann is a huge fan of designer Oscar De La Renta and has been seen wearing his clothing on many occasions.
Interestingly, at a recent political debate, the two women were spotted in similar shades of pink. Ann went for a bold cap-sleeve tweed dress, brocade jacket and green beaded necklace. Michelle opted for a all pink dress and jacket pairing from designer Michael Kors. To complete the look, the first lady added a strand of pearls.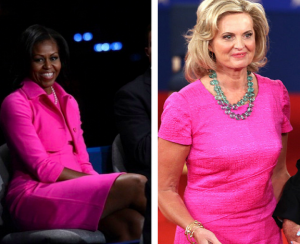 Political parties aside, who do you think wins this fashion debate?