FirstClassFashionista would like to invite you to shop: DesignerClothes@FirstClassFashionista
DesignerShoes@FirstClassFashionista
DesignerHandbags@FirstClassFashionista
*BOOKMARK THIS SITE* Official Celebrity Fashion and Gossip Website
Here is where you can tell fans what you think about the show. Share a comment with thousands of visitors. *Copyright Protected. First Class Fashionista permits a direct link and credit. *Don't forget to bookmark and share this post with a co-worker, friend, or family member.
Desperate Housewives "We're So Happy Your So Happy" Highlights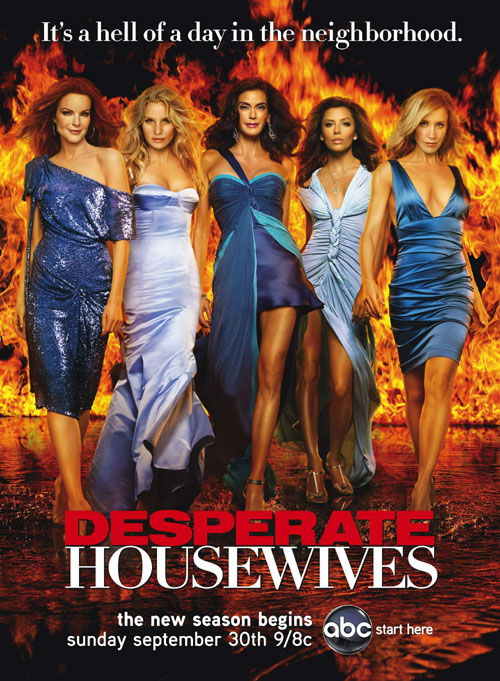 Edie:
Mrs. McCluskey insults Edie and Edie realizes that nothing has really changed since she left Wisteria Lane five years ago. She wants to leave and can't figure out why Dave has chosen to live there. Dave tells Edie not to worry and that he will personally see to it that the others start to treat her with respect. He visits Mrs. M and makes vague threats. Later her cat is missing. Dave makes her promise to apologize to Edie in exchange for his help finding her cat. Mrs. M agrees. *On the premiere episode Edie was seen in a La Perla Swimsuit. Discount La Perla Swimsuit Sale Cheap
Gabrielle:
Carlos is working out of their home as a masseuse. Gabby is very uncomfortable with this and encourages Carlos to take the masseuse position offered at the country club. This backfires. Bree has to tell Gabby that Michelle has uninvited to her birthday party that Bree is also catering. Michelle felt that because her guest were all members of the country club, it would be awkward. Gabby lamented, "We used to have help, now we are the help." Gabby and Carlos attend the party anyway. Gabrielle is uncomfortable at the party because she believes that she is less because she has less. Carlos explains that what they have as a family makes them rich. * On the Season Premiere Gabrielle wore a beautiful pair of Betsey Johnson heels. Discount Betsey Johnson Shoes
Susan:
Mike and Jack meet on Susan's door step. Jack is in his robe. Mike tells Susan that he wants to hang- out with Jack. Initially Susan doesn't want Mike to meet with Jack; but Mike says that he could take her to court if he doesn't agree with who she has around her and the kids. Susan coaches Jack on what to talk about while he was out with Mike. Mike and Jack are now new BFFs. *Last week Susan wore a pair of 7 for All Mankind. Discount 7 Seven for All Mankind
Bree:
Bree is so busy with her career that Orson is feeling neglected. Orson is also upset that Bree has chosen to keep Van De Kamp as her career name.
*Bree Van De Kamp wore a gorgeous pair of Jimmy Choo Pumps on this episode. I loved them! Discount Jimmy Choo Pumps
Lynette:
Lynette finds out that her son has a community web page. She snoops, finds out that he likes poetry and begins to chat with him anonymously. She tells him that she likes his poetry and shockingly he sends her a sex poem. Lynette tells Tom. Tom and Lynette agree that she has to break up with her son. Lynette writes a "Dear John" letter but signs it "Love, Mom". *On this episode Lynette wore a J Crew Cardigan. Discount J Crew