Time to Twist Things Up
With autumn in full effect and the holiday season just around the corner, I'm in need of some new hairstyles that are quick and easy to pull off. I love surfing the web and checking YouTube for cool things to do with my hair. Whether it be a chic, feminine detail to add to my pony tail or a completely new celeb-inspired look, I love trying new hairstyles.
The first trendy up-do I found is inspired by Hayden Panettiere while attending a red carpet premier in Hollywood. I like this look because it can be dressed up for a night out or dressed down for a day in class or at work. The look is classy and clean, and will stay put all day.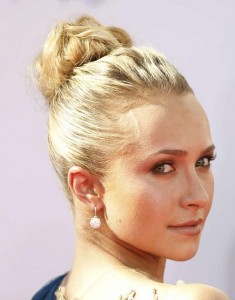 The easiest way I found to recreate this look starts with a pony tail just below the top of your head (curl your hair loosely before starting for a more relaxed look). Secure it tightly and then complete the bun one of two ways. You can either wrap the pony tail around itself, pinning the hair to your head every so often or you can try a sock bun. The video below shows how to do a sock bun. You'll need a long sock. Cut the toe off. Then roll the sock into a doughnut. Take the pony tail you should have in place already and slip the rolled-up sock onto the ends. Roll your hair and the sock together down to the base of the pony tail, tucking all the loose hair under as you go.. When you have the bun rolled nice and tight, secure any fly-away pieces with pins or hairspray and viola!
The next style I saw a lot of is an old Hollywood glam look with a deep part. This look is super easy to pull off and works best with long hair.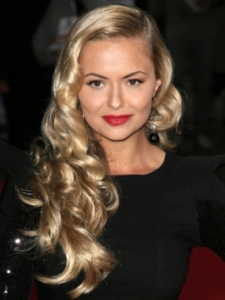 Simply take your hair and part it as deep as you like. Tease the side with the most hair under multiple layers and spray each layer with hold as you go. This will help an unnatural stay put. Apply hairspray somewhat heavily right on the part to secure the deep part. To finish the Hollywood, glam style, add soft face-framing curls and a red lip.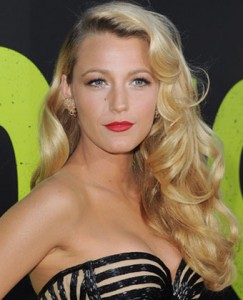 The last look I found (and have tried myself) is the ombre. I'm sure you've seen your favorite celebrities and friends trying out the tipped look. This style is more permanent than the first two, but a simple change can brighten your face. Depending on your present hair color, get a box of hair color about four shades lighter from a beauty supply store (the experts can help you pick a shade). Put your hair into pig tails and apply the mixed color you purchased to the ends of your hair, going as high up as you wish. Let the color sit for as long the directions specify, and rinse thoroughly. Then you'll have a sexy look to spice up your fall/winter holiday style.
Have fun trying these new styles, and let us know how they worked out for you! Happy holidays!