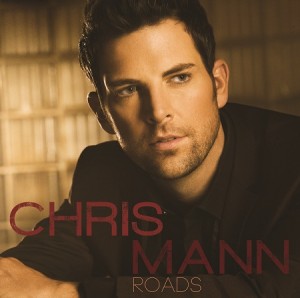 Anyone who can sing on Christina Aguilera's team on "The Voice" is good in our book. As a blogger for First Class Fashionista, I was given the opportunity to review Chris Mann's new CD entitled "Roads", which dropped yesterday. Anyone who knows me, knows that I am a true child of the 90s (as are some of my fellow bloggers at First Class Fashionista), and I absolutely worshiped 1990's pop goddesses like Brittany Spears and Ms. Aguilera. As you probably know, Chris Mann got chosen to sing on Christina's team on the popular TV show called "The Voice". So, I was obviously ready to hear his just released album. Turns out, I was not so ready. This album BLEW MY MIND. Although some of the songs were covers on popular hits like "Need you Now" by Lady Antebellum. Mann has the talent and the voice to reinvent anything he wants to. I was trying to think of the right adjective to help describe Chris Mann's voice and I finally came up with "Haunting Pop".
Let me try to touch on the highlights of this album. Imagine people like Sarah McLachlan, Enya, Celine Dion and Josh Groban. They all have this slightly haunting quality to their voice that has listeners screaming for more. Like I said, the covers were great but I've yet to tell you about the best part of the album. After doing some research, I found that Chris Mann has not only sung these songs but he helped WRITE two of them. He wrote "Coure" and "Falling", a stunning fusion of pop ballad and traditional classic music. These two songs convey all the best qualities about this artist. If you cannot (emphasis on can not) only sing but sing in multiple languages…..you've got my vote! But on a serious lyrical note, these songs carry the same haunting life messages that seem to match Mann's smooth, astounding voice.
I would compare Chris Mann's music more closely to the sound of Josh Groban. The difference is Mann's voice tends to be a lot more modern and less operatic, which could potentially land him in a wider target market than Groban. However if you LOVE Josh Groban, like I do; you NEED to check out Chris Mann's new album, "Roads". P.S. to all my Aguilera fans, one of the songs on the CD is recorded with Chris AND Christina! The song is called "The Blower's Daughter". The mixture of this titan of music AND soon-to-be titan of music is absolutely breathtaking.
As soon as I got the CD I popped it into the player in my car and when I heard the crescendo of this song, the hair on my arms just stood on end. No kidding. A more than impressive facet of this artist is his wide mixture of influences that helps to create his sound. One of my favorite covers on the album is "My Way" by Frank Sinatra. I know what you're thinking, there's no way anyone can pull off Frank's vocal talent. Well, in this case, you're wrong. Mann's voice is so versatile on this album that it transforms from slightly more of a pop voice to a big band, jazzy voice, like that of Frank. SERIOUSLY, guys, check out this album. You can find it on Amazon here and iTunes here. To learn more about this budding star, visit his website here. Once again, he is Chris Mann and the album I'm raving about is called "Roads".
FCF valued readers,
How can you go wrong with a good looking guy who sings, and his last name is MANN…Enjoy! And please come back and tell us what YOU think.
Disclosure: This is a product sponsored post. Regardless, our team at First Class Fashionista only recommends products or services we use, will use or have used personally and believe will be good for our readers. We are disclosing this in accordance with the Federal Trade Commissions 16 CFR, Part 255 Guides Concerning the Use of Endorsements and Testimonials in Advertising. All opinions stated here were not directly influenced by the brand. In cases where we can not support a product, that product will not be featured at FCF.