Costumes of Cirque du Soleil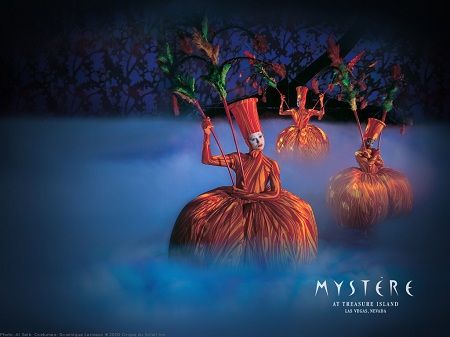 A facet of fashion that is often ignored is the intriguing art of costume design. Now I know I have written past articles about costumes, but that was more for Halloween. The kind of costumes I want to talk about are costumes that are used by stage actors and performers; more specifically, those fantastic costumes of Cirque du Soleil. One of the world's most innovative and quite possibly the most famous performance art circus, Cirque du Soleil creator Guy Laliberte still manages to shock and awe us. I have been lucky enough to have seen two different shows, and aside from the jaw-dropping sets and the eye-opening acrobatics, the real breath-taking part of the show is the costuming. The costuming is a hybrid between dance costumes, showgirls and usually some kind of natural force; be that elements or animals. So why an article on Cirque du Soleil's costumes now? The reason I wanted to write this article is we're finally seeing Quidam in Colorado at the 1stBank Center (formerly the Broomfield Event Center), and I thought I would provide some background on Cirque du Soleil so you, a valued reader of First Class Fashionista, will be able to fully appreciate the show in all respects.
Lilberte, the creator of the show, is originally French Canadian and was born in Quebech, which is still the home of the renowned performing troupe. Laliberte is actually trained in several "carnival" type trades, such as fire eating and stilt walking. Cirque du Soleil actually started off as a street performing troupe in which Guy Laliberte was the main attraction. As popularity began to grow, the performing artists began expanding their shows into theaters; creating an experience more than a show. Now Cirque du Soleil has activity on five continents, and are continuing to spread their creations all over the world.
Now that you guys have a small historical background, I want to talk about one of my favorite costume designers of the Canadian circus named, Dominique Lemieux. Dominique Lemieux is the head costume designer for this Avant- Garde performance and has designed for several of the circuses most famous shows, two of which are the ones that I've seen. One of my favorite costuming has to be from her show Mystere, which exclusively shows at the Treasure Island or "TI" hotel in Las Vegas. This show was my first Cirque show and so I really didn't know what to expect. The thing I really enjoyed about "Mystere" was the rawness of all the costuming. I remember thinking as a child that all the people were naked. Although most of the performers were wearing full bodysuits, the costuming still gave an illusion of a fluid and organic nudity.
What I find most intriguing from a technical aspect is not only do these costumes have to purvey some kind of character or object but they have to be functional too. As I'm sure many of you know, the show is a mixture of different kinds of acrobatics, ranging from aerial dancing called "Tissu" to feats of great strength called "hand to hand". So, the performers need their costumes to be as flexible as they are. Now, being a designer, I have NEVER found such intricate fabrics at the local fabric store. This correlates highly with the airbrushing and decorative pattern work that goes into the bodysuit creations are custom dyed pieces. Now, some of you may think this is an easy task. WRONG. The costumers must get the precise color right for every garment and all the garments must dye the same. Just from the sheer numbers of costumes, costuming these shows can be a feat. The show "Amaluna" has over 130 costumes that are comprised of 800 pieces. And "Mystere" was no exception.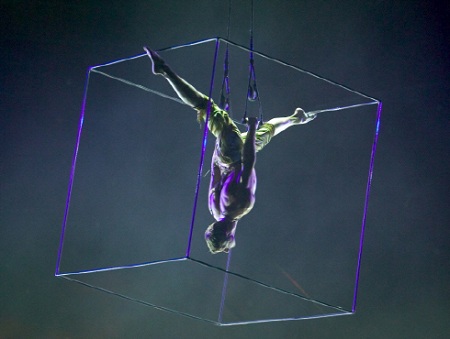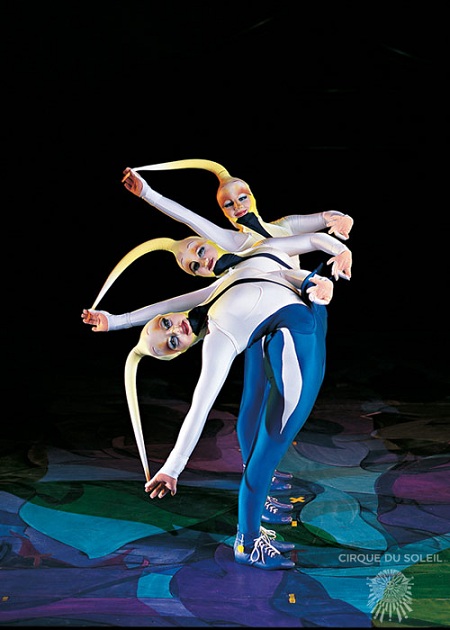 Many of the shows "characters" were based off of different animals and with the birds of prey, lizards, a red bird, several clowns and even some "adult" themed costumes, there was TONS of work to be done. I would have to say that my favorite costumes, though, would have to be those of the lizards. Mixing artistic vision with the risqué nature that is Las Vegas, these lizards show a sexy and sometimes raunchy but still artistic, and beautifully animalistic in nature.
If your in Vegas go see it. If you're not, try to go see Quidam. And let me know what you think!