The highly anticipated Lifetime Original Movie, "Liz & Dick", starring Lindsay Lohan and Grant Bowler as Elizabeth Taylor and Richard Burton debuts Sunday, November 25th at 9pm EST. "Liz & Dick" is inspired by a true Hollywood story. On the set of Cleopatra in 1963, the actress and actor met and married a year later, divorced in '74, re-married in '75 and divorced again in 1976. Their tumultuous on-screen, off-screen love affair produced eleven films and one child, Maria who was adopted. Re-marrying Burton twice, Taylor was married a total of 8 times to 7 different men, and had 3 biological children; two boys and a girl. In an interview with TV Journalist Barbra Walters, Elizabeth Taylor said she couldn't remember when she wasn't famous for her acting, her illnesses, her movies, her jewelry and her husbands.
Taylor is truly one of Hollywood's first fashion icons. Elizabeth Taylor and Richard Burton lived in the spotlight, so Liz couldn't leave the house without looking absolutely fabulous. They were Hollywood's royalty. The couple couldn't get away from the paparazzi no matter what corner of the world they were in.
To celebrate the debut of "Liz & Dick", Lifetime asked bloggers to share an easy way to create a contemporary old Hollywood look of elegance. Elizabeth Taylor was stunning. Browsing through pictures online, her dark locks, dark eyebrows, thick eyelashes, blue eyeshadow and signature red lip is what stands out the most. She loved diamonds and gems. Dangling diamond earrings and a diamond necklace were her favorite go-to accessories, as she usually kept her hair cut above the shoulders and highlighted the decolletage area. Liz loved feminine, form-fitting sexy dresses with a low square or deep v-neck.
Considering the holiday season and the glamorous parties First Class Fashionista's readers are sure to get invited to, here's an easy contemporary old Hollywood look I put together.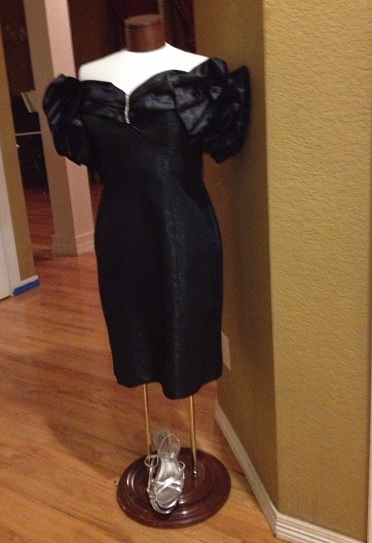 I chose this strapless dress with puff shoulders, a deep v-neck and rhinestones. Why the silver shoes? Elizabeth Taylor had a favorite pair of silver evening sandals, so I decided to pull these strappy darlings from my shoe closet.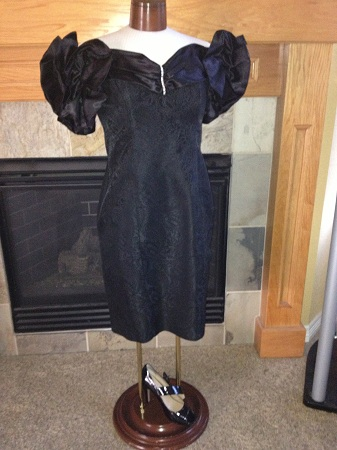 For a more contemporary look, however, I would likely wear a black heel. Add the dangling earrings and a diamond bracelet, but you won't need a necklace if your dress has decorative details like this one. And, don't forget the red lip!
Brand Statement:
Lindsay Lohan stars as the legendary dame Elizabeth Taylor alongside Grant Bowler as celebrated actor Richard Burton in the Lifetime Original Movie Liz & Dick, making its world premiere Sunday, November 25, at 9pm ET on Lifetime. Based on the true story of the couple's passionate and tumultuous love affair Elizabeth Taylor and Richard Burton were Hollywood royalty and their fiery romance — often called "the marriage of the century" — was the most notorious, publicized and celebrated love affair of its day.
Disclosure:
Compensation was provided by Lifetime via Glam Media. The opinions expressed herein are those of the author and are not indicative of the opinions or positions of Lifetime.