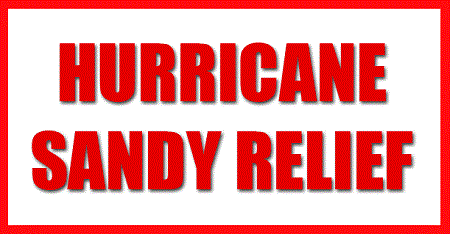 On October 25, 2012 the United Sates suffered one of the largest and worst natural disasters in American history. The Eastern coast was devastated by hurricane Sandy, much of the damage was suffered by New Jersey and New York.  But the majority of the eastern seaboard was hit, everywhere from Virginia to Maine. The hurricane has caused an estimated 60 billion in damages, and has claimed over 110 victims. However, after a period of mourning, New York has started to rebuild, emotionally and physically. It was just announced this morning that there will be a relief concert held in New York, that will bring together some of music's greatest stars. The DJ said that there was a nationwide bulletin sent to every broadcasting network in the country announcing this concert. I think it speaks to the strength of a countries people when we can band together after a tragedy and support one another. This concert is a one night engagement with recording artists such as Bruce Springsteen, The Who, Jon Bon Jovi, Alicia Keys and more.  The date for this event is December 12, 2012. No ticket information has been released but it its anything like the concert that is scheduled to occur on November 17, 2012, the concert will have a large following.  This first concert is called "Occupy Sandy" and will be featuring artists such as, The Vampire Weekend, Dirty Projection and The Walkmen. This concert has already sold out, so if you it's a nationwide event and bigger celebrities, those tickets will FLY off the shelves.
I realize many of us don't have the kind of money to pick up and go to New York, but I think we as a whole nation should rally behind the devastated victims of Hurricane Sandy. Now, I know that this isn't the is different from what we usually write about at First Class Fashionista, but I feel so strongly towards this and I think more people need to be informed about how to help our fellow man. So here are some things you could do to help. Because many of us do not live on the east coast, all we can really do is donate our finances to help rebuild.
Donate- If you neither have the time or the capabilities of helping, then you should donate. The Red Cross is the organization that I would put my money into. So far they have distributed 1.9 million relief kits and dispatched almost 9,000 workers to the various states across the east coast. They also have served over 5.8 million meals to those affected by hurricane Sandy. Any amount helps. To learn more about donating here is the link to the Red Cross homepage, click on the "Donate Now"  link and follow the steps to donate: Hurricane Sandy: Help Those in Need.
Make other people aware- If you don't have the financial means to support the victims, spread the word about charities and where to donate. There is a great website called Charity Navigator, which links up all the charities websites involved with the hurricane relief. This will give you more than one outlet to contact people about helping, and donating. Visit Charity Navigator.
Keep the victims and their families in your thoughts- If nothing else, keeping this tragedy on the brain is helping believe it or not. I think we as humans are so consumed with our own lives that it's very hard to focus on anyone else for three seconds. And if you know someone who was in the affected area then, call, write, text them to make sure they're okay and ask them if there is anything or any organization that they could set you up with so you can help.