What to wear to a Holiday party?
So trending right now in the fashion blogging world are articles about what you should wear for your holiday parties. "You" of course being a WOMEN! Even our readership at First Class Fashionista is mostly female. But being a writer of primarily MEN's fashion, you can probably guess what I want to discuss. I personally always have a lot of trouble picking out what to wear for my holiday parties. Believe it or not guys, there is a difference between your nice clothes you wear in the summer and the nice clothes you wear in the winter. This doesn't mean you have to wear the cliché "ugly sweater", which will be discussed later. And frankly, guys, you don't have to step that far out of your normal color pallet. Here are  three looks that I think should be explored by EVERY MAN in America. These are my favorite holiday soiree ensembles.
1. Everyone likes black. I, personally, adore black and this is an ensemble that is classic enough not to be considered outdated. Black slacks should be a staple piece in every guys wardrobe. They're kind of the lifeblood of the working male. Nice shoes ARE REQUIRED. Nothing irritates me more than someone who puts in a good effort on an acceptable outfit and they show up to a holiday cocktail party wearing converse. NOT ACCEPTABLE. Like the black slacks, black dress shoes are a must. Now because both of your pieces from the waist down are staple pieces that can be seen in summer or winter, the place to show your holiday style is on your torso. What I call the "dress sweater" (not to be confused with the sweater dress) is the perfect holiday top. The dress sweater comes in many different varieties, but my favorite is the turtle neck sweater that has the zipper that opens up the turtle neck. If you're primarily an online shopper, these are called "mock-neck" sweaters. And since every color (other than brown) goes with black, feel free to stick with a monochromatic color scheme and wear a black sweater or spice things up with maybe a red sweater to show off your holiday spirit.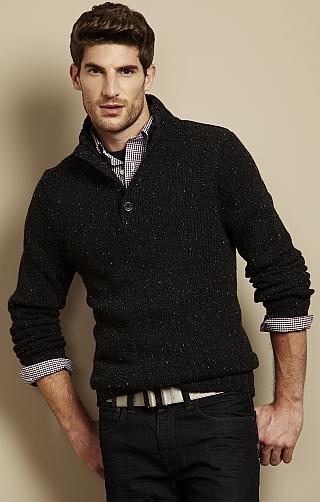 2. The next ensemble is slightly more fashion forward, as well as more casual than the first. Seen on runways everywhere are…the ugly Christmas sweaters! Since fashion has had this pull towards what we call in the fashion world "nerd chic", those dorky Christmas sweaters have made their debut in the world of acceptable fashion. This ensemble consists of two main pieces. The first is a skinny pant. Christmas sweaters tend to be so bulky it is imperative that you balance the bulkiness up top with some tightness on bottom, otherwise YOU will look bulky. You can choose any hue that compliments or matches any color in the sweater. Now, you can probably guess why I call these sweaters ugly Christmas sweaters. Everyone knows the sweater I'm thinking of; the one with Christmas lights, or ringing bells. I am not at all suggesting that you wear either. To the contrary, I have seen some very chic, ugly sweater-inspired sweaters that would look very cute.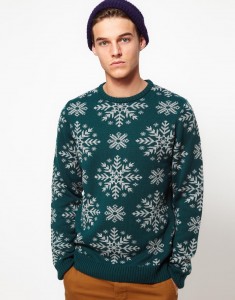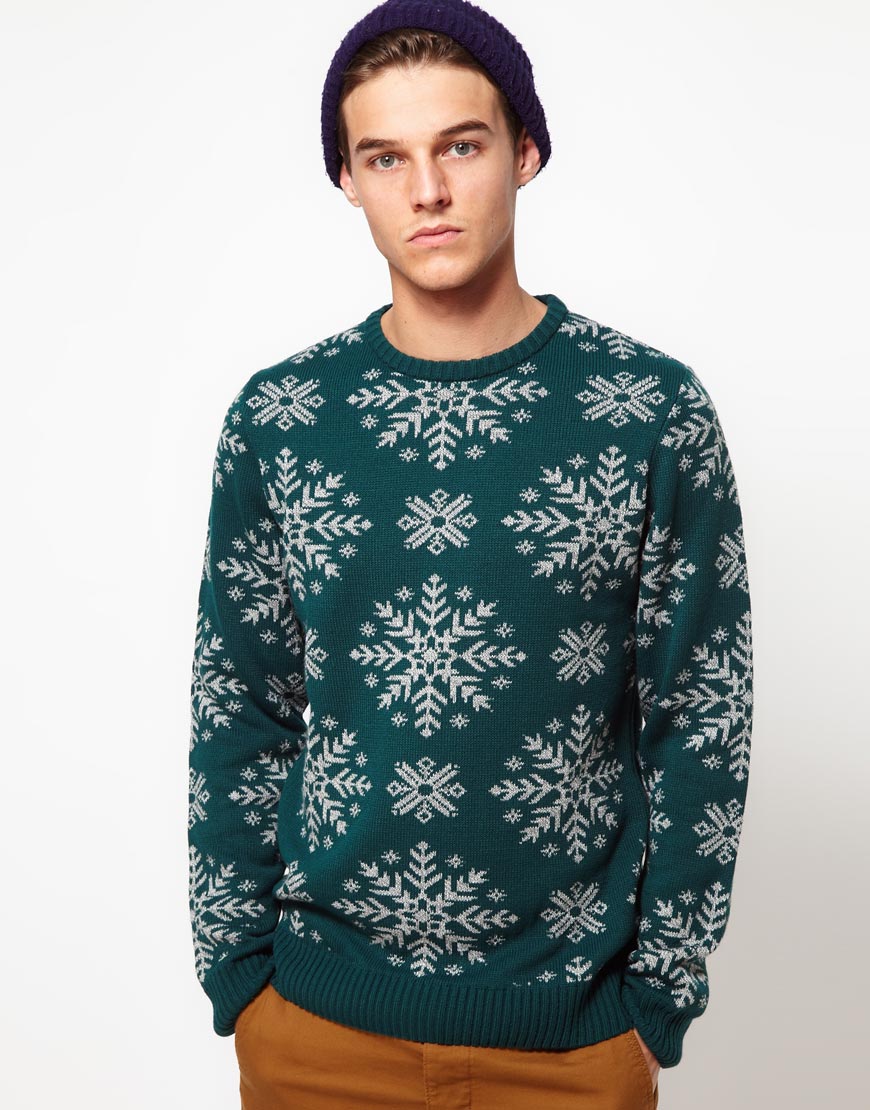 3. The last thing I feel is very important to talk about because of all the outside events like "Zoo Lights" and ice skating that a lot of people do, is outerwear. I think outerwear can be just as important as what is underneath. Coats and jackets contributes to people's first impression of you. Outerwear should be statements pieces. I personally want to retain my slightly grunge style, while at the same time looking fashion forward. As I was surfing the web for fashionable men's outerwear, a coat actually caught my attention. It's the PERFECT coat for a formal occasion, or perhaps a romantic date night at "Zoo Lights". This coat is in the style of a double breasted, peacoat called a "great coat" by Burberry. Like a peacoat, this coat is wool and has a quilted lining for warmth with a collar that can stand up or lay down. However, unlike the peacoat, the great coat is long, and stops at the knee. Now if a garment like this is to be worn, due to its length the color must be muted, like black or a more traditional navy blue. The great coat gives off the professional, clean cut sexiness that I think a lot of you would enjoy.
Disclosure: This is a monetized post. Regardless, our team at First Class Fashionista only recommends products or services we use, will use or have used personally and believe will be good for our readers. We are disclosing this in accordance with the Federal Trade Commissions 16 CFR, Part 255 Guides Concerning the Use of Endorsements and Testimonials in Advertising. All opinions stated here are my own. In cases where we can not support a product, that product will not be featured at FCF.