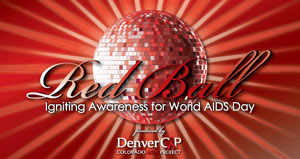 On Sunday, December 2nd, Red Ball will celebrate its 4th year in fashion for a great cause. Taking place at the EXDO Event Center in Denver, CO, Red Ball commemorates World AIDS Day, and raises funds for Denver Colorado AIDS Project. DCAP proudly provides services to people living with HIV/AIDS and their families, and strives to educate the community on prevention. One of Denver's most successful runway show productions, the Red Ball experience is not-to-be missed.
"This year's event is shaping up to be nothing short of spectacular," says Jeff Trujillo, DCAP Developmental Officer- Special Events.
With 20 designers, 17 salons, 147 models and fashion lovers from all over the Denver Metro Area attending, this year's Red Ball is expected to be monumental. Participating designers include Barrera International, Baskit, Bling Twist, Construction Zone, D'Lola, Fashion House of Rae Marie, Gabriella Designs, Gino Velardi, JM Designs, Jump of Joy, Justice K International Collection, Kimono Dragons, Mona Lucero, ODDD and PIM.era
For more information and to purchase tickets visit: www.redballdenver.org. The Exdo Event Center is located at 1399 35th Street Denver, CO. See you there!