Wondering what to grab for dinner on your way home from school or work this chilly evening? Step out of your comfort zone and try a bowl of hot Pho. Pronounced "fuh", this traditional Vietnamese soup can be prepared just about any way you like it and new Pho restaurants are popping up all over the Denver metro area.
Traditionally a beef noodle soup, Pho can be made with chicken, shrimp, or another protein of your choice. Most restaurants cook the meat in boiling water while seasoning it with Vietnamese spices, diced onions, radishes, garlic, ginger and salt. Rice noodles are added for some starchy substance and the soup is served steaming table-side. I like to add some hot chili sauce to spice things up. Pho dished are usually served with a plate of extra spices and other garnishments to add to your soup to make it taste just the way you like it.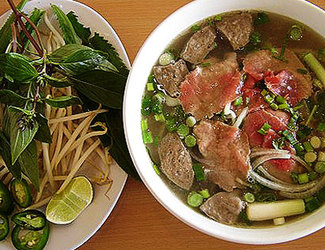 Pho restaurants are great places to go with large groups over the holidays because everyone can get a bowl of comforting broth and fix it to their specific tastes. Many of the places I have been in downtown Denver are very reasonably priced, where a medium bowl runs for about $7.00. If you don't live near the city, I have been to some great Pho restaurants in Thorton, Broomfield, Aurora, and Lakewood that are full of culture and flavor.
Know of some great Pho restaurants in your area, or recipes? Leave us a comment below!