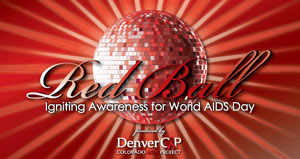 London, Paris, Milan…No, DENVER. December 2, 2012, Denver Colorado was the city to represent fashion. I was lucky enough to be able to attend a fashion event called the Red Ball. Some of you might have heard of it, I know I have, it is a prestigious event that benefits HIV and AIDS research and it was hosted by the CW's Chris Parente. All I can say is WOW. This event blew me out of the water. A night filled with drinks, sexy people, fashion and charity; who could ask for more? I know some of you couldn't attend and that's okay because here, at First Class Fashionista, we have pictures and video of this extravaganza! The night started off like any cocktail reception, except as soon as you checked in, you were in front of a step and repeat where a photographer was there to snap a picture of you. The room was massive. Held at the EXDO event center, I expected nothing less than glamorous. And, that it was. A Red Carpet welcomed your arrival and the decor was just dripping with opulence. Red table cloths covered in white pearls and a fork shaped stage greeted the guests. Amidst all of this fabulous atmosphere, you'd think things couldn't get much better. They did. Eric Pung from Aerial Fabric Acrobatics began to dance in the silk strands hanging from the ceiling! The entertainment that followed was fire dancers who used fire fans and fire poi to wow the audience. After that came the grinder dancers. I know what it sounds like, but it's not. Having metal plates attached to their body, they took a power tool and would grind it against the plates while dancing, creating a spark show. All the music was provided by one of my favorite DJs, DJ Rockstar Aaron, whom I have a picture with! Then came the best part of the evening, a string of fashion shows from 20 local designers. 20! Here's a spinet about each designer.
D'lola Couture– Normally a bridal designer but tonight she was on point with her Avant-Garde evening gowns. Staying with the theme of 'red', her entire collection was a one stunning piece after another. Lavish fabrics and embellishments were the name of the game. Many of her pieces had appliqued rosettes or couture hand-beading.
Jump of Joy– This collection was so far out. No. It really was. With an obvious inspiration from the 1960's, this collection included color blocking and cute short mini- dresses. With a mixture of color tights and block heels the Jump of Joy collection was a vision of 60's go-go girls.
Bling Twist– Twinkle, Twinkle little bling. This line was a subtle extravaganza. One item on all the models was completely bedazzled! Everything from Uggs to Boots and everything in between, the goal was to make it shine.
Vandalism Designs– Interesting. Probably the only word that truly captures this collection. I felt like it was very "Two-Face" meets runway. Asymmetry was obviously a value favored by the designer. Through the use of eclectic/busy prints and strange never before seen silhouettes, Vandalism Designs was truly one of the most unique lines of the evening.
Mona Lucero– Probably the most youthful of the evening. It was refreshing to see something not so Avant-Garde. Putting off a punk version of the quintessential club girl seemed to be the aesthetic and feel I was getting from the line.
Kimono Dragons– Holy Hair. Between the clothes and the hair, my eyes didn't know where to stop. The clothing read very 1970's British punk with the plaid print and the tight pants. The hair, styled by Rebelle, was very fantasy. Creating an overall cohesive and vintage looking collection was something that the combination of the hair and clothing did.
Tyne Hall– The notes I had written on this collection went as follows. Cutesy. Bad Girl. Cocktail. The look for the modern party girl was something Hall did for this collection. The first two descriptors I used are juxtaposed, but they make sense when you think about things like sheer tops. They are super in style, yet they show off just a little bit of skin.
Justice K International– Whoa. Probably the most fashion forward, trend wise. This line featured flawless evening gowns with metallic fabric. I felt as though this collection was very YSL. The sense of a woman's sexuality just seemed to radiate from this line.
Baskit– So for the sheer value of eye candy, this was my favorite part of the show and I doubt people in the audience would disagree. Dudes stomping the runway in designer underwear…yes. The guys weren't the only thing making a visual statement though. The neon colored underwear created quite the colorful stir in the audience.
Poly's Pleasures– Chainmail isn't just for knights anymore, it's for nights too. So I thought the last designs were sexually charged. These designs were made entirely out of chainmail. The intimate "bedroom" collection showcased raw sexuality. Both men and women strutted the runway showing off the sensual nature of metal. This line gave off a more alternative feel of sexuality than that of the previous designer. The line seemed very warrior.
JM Designs– I feel like this whole show was on a curve. The presentation started off with evening gowns and then got slimmer and skimpier. We actually got down to the chainmail bra. Then we moved back up into slip-like wear. Now I say slip-like wear because of the fabrics used. They are appear to be comfortable next to the skin, helping to create a luxurious look to these rather simple designs. Very much like cocktail wear, the designer seems to have pulled its inspiration from the 1950's.
ODDD– Just when I thought we were done with underwear. I was WRONG! Made from recycled AIDS fundraiser T-shirts, these go-go underwear really heated up the runway. Featuring not only men's underwear but various other unconventional garments as well; like the back shield, sling things, which were also recycled fundraiser t-shirts. Plus, the designer was a drag queen with blue blinking hair…can't go wrong.
Barrera International– The keyword here is INTERNATIONAL because that's what it was. I saw influences from all over the world from ancient Rome to classic eastern Asian. This line of beautifully draped gowns flowed down the runway with chiffon, draped capes and shawls, creating a vision of elegance.
Sapphire Stars– This collection I feel was for the fun, cocktail party-going, socialite. I saw some sparkle and some sheerness, which made the line never boring to look at. This was more of a winter cocktail line.
Gabriela Designs– Anyone who reads FCF will know who she is! I have seen this amazing designer (Gabriela Martinez) multiple times and she NEVER fails to deliver. This show was no different. Her work is always very historically inspired. Luxury is another calling card of hers and when you mix the two together you get true perfection. Using lavish brocades and fine, flowing fabrics, and fur, Gabriela once again is the show stopper everyone can't wait to see. Gabriela knocked the show dead!
Studio Yoshida– Eclectic. Designer Kotomi Yoshida created one of the most eclectic lines seen on the Denver fashion circuit. With an obvious Asian influence, it looks very Japanese- Tokyo street fashion. Not quite as wild as Harajuku, but still unique enough to leave the audience wanting more exotic fashions.
PIM.era– Designed by Pimtheera Rojanavongse, this line was all about the prints. For those of you who read my last article, "Trend Watch for Fall/Winter 2013", one of the predicted mega-trends for 2013 are the crazy psychedelic prints. This designer patterned the runway with zig-zag stripes and various other semi-abstract floral prints. Mixing these with rather simple and clean designs, made the garments STOMP the runway.
Construction Zone– So as you all know men's fashion is…well, kind of sad at the moment. But this designer tore up the runway with male only fashion, which was the first one of the evening that didn't involve just underwear. Mixing a sort of British Gentlemen with steam punk, really launched the line into the yes column of menswear. With tailored vests juxtaposing the general rough feel of the line, really brought some visually appealing men's clothes to the runway.
Fashion House of Rae Marie– The interesting thing about this designer is I first saw Rachel Hurst show her collection four or five years ago at CU Boulder, and now I'm watching her work dazzle the runway of the biggest event of the season. Stunned. These garments were some of the most beautiful, and visually stunning of the night. I wanted to use the word ethereal to describe her designs but they are more of a warrior ghost feel. Each piece has a tremendous amount of power, yet they have the flowing femininity that evening gowns often do.
Gino Velardi Designs– Watching his collection on the runway was like watching a review of all the major designers, and have every fashion influence painted red. The silhouettes were reminiscent of classic Dior, Diane Von Furstenburg, Alexander McQueen, and Yves St. Laurent. All women's wear, Velardi managed to hit every market from holiday cocktail to evening and the red carpet. Keeping with classic silhouettes, many style lines were altered to show off some skin; making them a sexier rendition of the aforementioned famous designers.
Enjoy the pics and video. Feel free to share with your friends and family (okay to share pics on facebook). Red Ball was so much fun! Great job everyone!!!