Jenna Lyons at the HBO screening of "In Vogue: The Editors Eye"
Our favorite Creative Director looked as chic as ever while walking the red carpet for "In Vogue: The Editors Eye". Lyons donned her signature black framed glasses and sleek slicked back hair. She kept her styling classic in a pair of gold trousers, cobalt heels, black sweater and chambray; a look that is so J.Crew. Of course, we can't not even mention the amazing over-sized tribal parka that was worn draped across her shoulders…shhhh.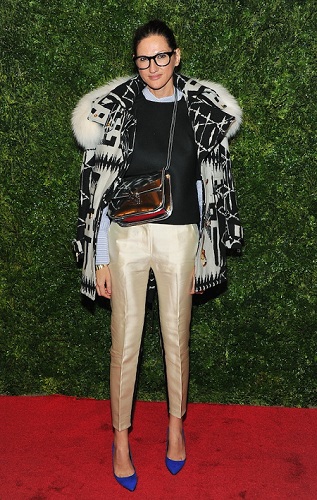 Lily Aldridge walking in NYC
The Angels reeled in the ratings during the annual Victoria's Secret Fashion Show. The televised event brought more than 9.3 million viewers, putting VS among the top shows of the season. With a major rating in her midst, Lily Aldridge has also been making waves in her fabulous fashions as well. The 27-year-old model was spotted in leather leggings, a bold yellow peplum top and a fabulous pair of sunglasses. We love a fashionista that is able to work in color to her wardrobe!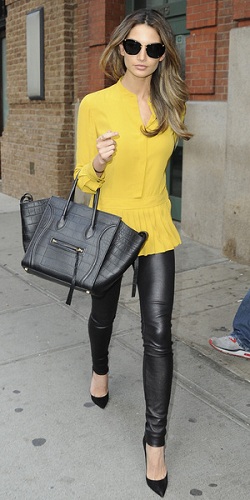 Lauren Conrad appearance on 'Extra' at The Grove in Los Angeles.
Suited in a sleek pair of leather leggings and a festive knit, Lauren Conrad shows us that holiday sweaters can be fashionable. Graphic sweaters have been a major trend this season and we love designers who are taking advantage of the seasonal departure. Lauren styled her Lot78 knit with a shiny pair of trousers, pointed heels and a slouchy Balenciaga tote.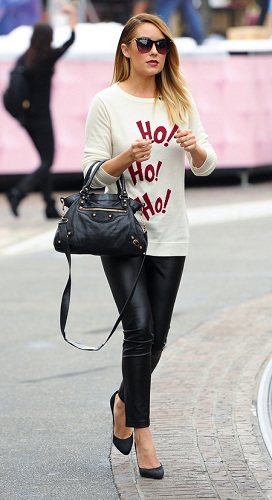 Lucy Hale at the Nylon December/January Cover Party
Our favorite Pretty Little Liar celebrated her Nylon cover feature in true style! The 23-year-old actress wore a a perforated leather mini dress by LF and stilettos by Sam Edelman. Lucy's sweet and playful style has been a major influence of inspiration this season. When asked what her favorite piece from her cover story was Hale replied, "I love flats, and being a short girl, you would think I'd like to wear heels more."