One of my biggest fears when I'm on holiday break is getting BORED. I know that I am not the only one feeling this way. I think to be a true fashionista, you have to be a part of the overall community, not just the fashion community. True fashionistas have a lust for life and new experiences. They crave culture and desire excitement within their everyday lives. I recently came to this realization, when I was stuck with boredom. So, deciding that I was a fashionisto (the male equivalent) I began to look for local events in Denver that might fulfill my need to be less bored. And I thought, people shouldn't have to look for this stuff, there should be a source that helps make must-attend events and activities common knowledge. Here are a few of the happenings I found around town that ALL of you should try!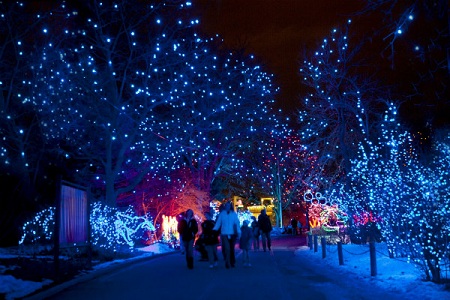 Zoo Lights: I am personally a regular to this event. Thrown every year at the same time, zoo lights is a mind-blowing experience. Since the zoo has been remodeled so severely since we were all kids, zoo lights has only mimicked the zoos massive and glorious changes. If you have never been, this is how your trip down to the Denver Zoo should go. First off, you should purchase your tickets in advance! Zoo Lights is a favorite holiday activity for families all across the state of Colorado, so the entire state will most likely be there the night YOU go (Things always seem to happen like that). You all remember, back in the day, when parking used to be a HUGE hassle, well it still is but with the construction of the parking garage, some of that irritation will be alleviated. After you get in, you should be guided through a tour of the lights set up at the Denver Zoo. About halfway through, you will find vendors selling various dessert-type foods, hot chocolate being one of them. This is the best part about Zoo Lights; sitting at the ZOO surrounded by CHRISTMAS LIGHTS, drinking HOT CHOCOLATE. There are also nightly events, including things they call "cultural entertainment".

ChristKindl– It's stuff like this that REALLY defines a fashionista. The 12th Annual ChristKindl Market is a favorite that really only a select few know about. Well, I'm changing that. EVERYONE should know about this awesome event. This year was actually my first year going and, of course, I have to share my thoughts with you guys! Located on Larimer and 16th in downtown Denver, this market sets up shop. The market is actually an old German tradition that dates back to 1310. It expanded past Germany though and exhibits influence from other eastern European countries as well. With both vendors and traditional food, this place really retained the feel of Europe. The vendor's products ranged from selling hand-painted nesting dolls to Christmas ornaments to knit hats. One vendor in particular caught my eye, it was a Polish pottery and ornament company that was selling handmade glass and clay ornaments from Poland. YEP, I bought one. The glass work and painting on these ornaments is absolutely exquisite. Amongst the food were GIANT pretzels, traditional German sausage, fish, and cinnamon vanilla almonds! In the very back of the market, there was probably the most culturally relevant stand; the beer tent, The covered beer garden had several beers on tap and long tables made for socializing.

Pompeii Exhibit– Running through the 13th of January is, for most of us, a once in a lifetime opportunity. The Denver Museum of Nature and Science was lucky enough to host a traveling exhibit called "A Day in Pompeii". I bet most of us recognize the name Pompeii, probably because we built a model of it in school. However, for those of you who don't know, Pompeii was an ancient Roman town that was destroyed and preserved by a volcanic eruption. At this exhibit they not only have the artifacts found within the preserved city, they also have the casts of the people found in the volcanic ash. Probably the coolest exhibit to hit Denver since the YSL or King Tut exhibit, this exhibition really will blow your mind. It transports you back to a time in ancient Rome, where you can see art, architecture, jewelry, housewares, gladiator's armor and even actors portraying the people of ancient Pompeii. After you experience the life of Pompeii, you get to experience the destruction. Once you've watched the recreation video of the day of the eruption, you find yourselves overwhelmed by an eerie sight; full casts of people that were found in the ruins. Many of the people are covering their mouths and heads in hopes of protecting themselves. The most intriguing sight is a pit of skeletons plastered together in the volcanic ash. Like I said, this is a once in a lifetime experience! Us fashionistas and fashionistos have to be up to date on current events and happenings, and take advantage of life.