FirstClassFashionista would like to invite you to shop: DesignerClothes@FirstClassFashionista
DesignerShoes@FirstClassFashionista
DesignerHandbags@FirstClassFashionista
*BOOKMARK THIS SITE* Official Celebrity Fashion and Gossip Website
Here is where you can tell fans what you think about the show. Share a comment with thousands of visitors. *Copyright Protected. First Class Fashionista permits a direct link and credit. *Don't forget to bookmark and share this post with a co-worker, friend, or family member.
"The Serena Also Rises"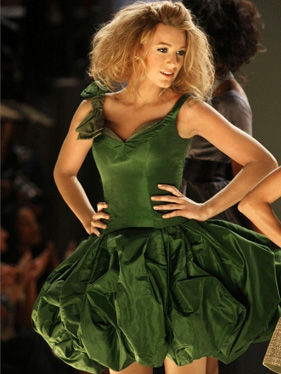 Jenny
On this episode, Jenny is skipping school to help Eleonore Waldorf with her upcoming fashion show. Blair gets envious and pays a "tattle-tale" visit to Jenny's dad. This doesn't stop Jenny. She assists Mrs. Waldorf with her fall fashion show anyway. Blair tries to sabotage Jenny by telling the models that they were overbooked and sending them home before the show even starts. Jenny is smart and a quick thinker, so she uses the socialites in attendance as the models. BTW, these are Serena's new friends. Serena is encouraged by Socialite Pappi to walk the runway and so she does. However, Blair has one more trick up her sleeve. Blair gives Jenny's dress to Serena to wear on the runway. Mrs. Waldorf is furious but Blair defends Jenny because she and Jenny had a heart to heart talk during the show. *Jenny may be Blair's new BFF…! BUT Miss Jenny has also dropped out of school.
Serena and Blair Confrontation:
First, Serena and her new friends are asked by Blair's mom to sit in the front row of her fashion show, which upsets Blair. They always watch the show from backstage. Well anyway, Blair changes the seating with out authorization. When Serena arrives, she finds that she and her socialite friends are seated in the back row. Mrs Waldorf scolds Blair, tells her to stay out of the way and rearranges the seating. After the show, Serena tells Blair how she really feels. *I don't think that Serena will let Blair get in her way anymore.
Chuck and Dan:
Chuck and Dan end up in a bar fight and landed themselves in jail. In jail, Chuck finds out that Dan has been writing about him. Chuck is so angry that Dan has been secretly writing about him that he tells Dan to watch his back and leaves him in jail. *Poor Chuck… He thought that Dan was his new BFF.