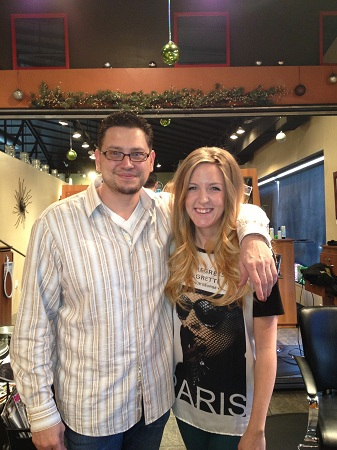 As a writer for First Class Fashionista, I have been blessed with opportunities to meet so many unique people and this was no exception. I was invited to stop in at Salon Bodhi in Cherry Creek and have my hair colored and styled by one of Denver's most talented artists, Ted Medina. From real estate to the local barber shop and studying under some of the best hair stylists in the country, Mr. Medina's story was inspiring to say the least. While on a path to discovering himself and his true talent, Ted Medina realized his passion was making people feel good. As a kid, hanging around a barber shop with friends, Mr. Medina discovered that he loved the fact that if people feel good about themselves, they will do good in the world.
After graduating from Antoine du Chez Academy as an advanced student, he began working at Belleview Promenade of Antoine du Chez. Mr. Medina explained, "If I wanted to be the best, I had to train with the best at the best school possible." While there, he noticed that a true "salon experience" was missing and set out to raise the standard in Denver. Ted Medina switched things up and became mobile; traveling to his clients at their homes and brought the personal, stylish expertise to them. Medina told me, "I made the most money ever that summer, but that's not what I'm about…" Something was still missing.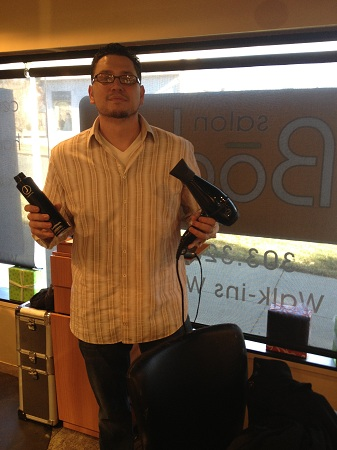 Looking for a way to "give back to the future of the industry he has grown to love over the years," Ted Medina and his team was presented with the opportunity to participate in a charity salon event with Stacy Jo, a fellow top stylist in the industry. Stacy trained under Ouidad and is certified in using their products that are designed for Fashionistas with hard-to-manage curly hair. Ted said to me, "I knew I wanted to work with this talented woman after talking with her for five minutes." Together, Stacy Jo and Medina moved into the peaceful space that is now Salon Bodhi.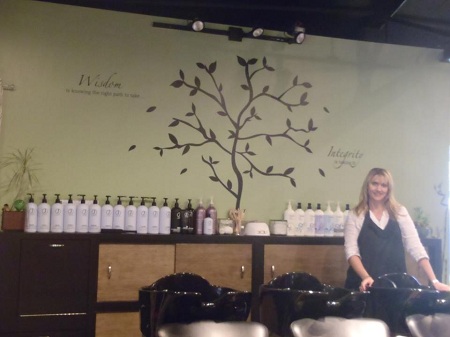 Salon Bodhi is a full service salon tucked away in a quiet corner of Cherry Creek and "has been created as a place for our clients to relax, get centered, and to focus on themselves." This feeling of relaxation was expressed to me by the entire staff during my visit. Everything from designer haircuts, to styling lessons, to access to the some of the best hair products in the business, and a welcoming staff at Salon Bodhi who can do it all, any guest is sure to leave with a style they'll love and a smile on their face.
Ted added the perfect touch of honey blonde to the ends of my hair using his go-to product line by J Beverly Hills. After using a moisturizing mask treatment on my dry hair, he added a J Beverly Hills glosser, a root volumizer and bodifier. Mr.Medina gave me his signature Beverly Hills blowout and added a moisturizing coconut oil to my hair to add some stylish shine. He also showed me some useful tips along the way, so that I could recreate this style by myself too! I purchased the thermal protectant and coconut oil from J Beverly Hills after Ted told me that every Fashionista must use these products to keep their hair looking and feeling healthy.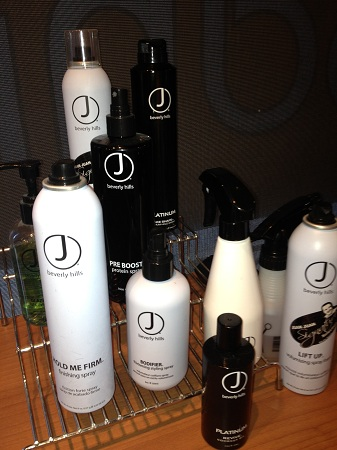 In addition to being a great stylist currently at Salon Bodhi, Mr. Ted Medina is a big part of the fashion scene here in Denver, Colorado; participating in the recent Red Ball event, the Barerra International Fashion Show a few months ago, and the spectacular 303 Magazine Hair Show in October. Along with being a father of two, Ted travels the country giving motivational speeches and technique tutorials on color and how to create a relaxing, guest centered salon. For more information on Ted Medina, Stacy Jo, and Salon Bodhi, visit http://www.salonbodhi.com.