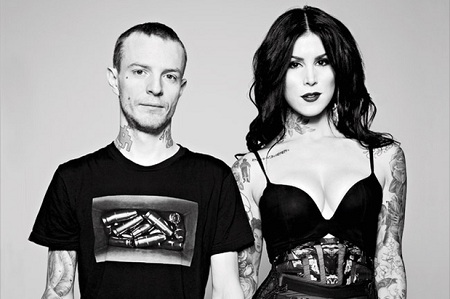 The king of electronic music, and my personal favorite mainstream deejay, Deadmau5, has officially made the decision to tie the knot! Not sure how I missed this big news; but the electro-nerd proposed to his bride-to-be and tattoo artist, Kat Von D, via Twitter December 15th—Talk about romantic! After the recent proposal Deadmau5, just this week, decided to officially put a ring on it with a custom-made black diamond. Staying true to his tattoo-covered fiance's punk rock style, the rock is set on a silver band complete with two small skulls that sit on both sides.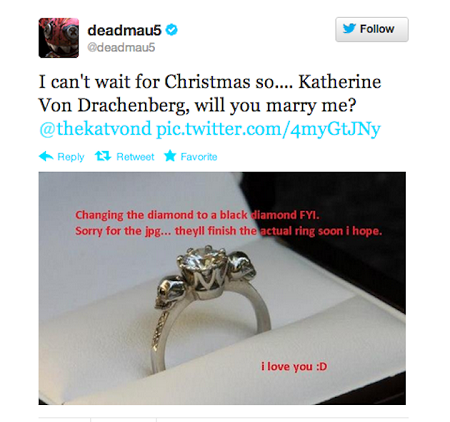 Note: The diamond in this picture was replaced with a custom black diamond.
The couple has been on and off since September, but Mr. Zimmerman popped the question to his new finance by tweeting a picture of this ring along with the caption, which reads "I can't wait for Christmas so…. Katherine Von Drachenberg, will you marry me?". Even though I am a major lover of Deadmau5's music, I am not sure if this move is the musician's smartest decision. Having only been dating roughly 4 months, with already one break up along the way, this engagement is sure to be a fun one to keep an eye on in the tabloids.
Either way, Congrats Deadmau5 and Kat Von D—We wish you the best and can't wait to watch this relationship unfold! Good luck n' stuff!