I am thrilled to have the pleasure of introducing to you the woman behind one of the HOTTEST Women's Activewear line on the market. It's very stylish, sexy, and perfect for working out. Hope you enjoy meeting Zeudy Mars. I love her work.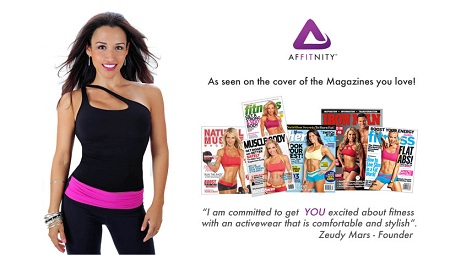 1) Hi, Zeudy would you please give my readers an introduction as to who you are and what you do?
Hi Monique! My name is Zeudy Mars and I design workout clothing that is fun and stylish; which makes women feel and look beautiful and sexy. The name of my clothing line is AF FITNITY
2) Why the name "Affitnity"?
I took the words "affinity" and "fit" and blended them to come up with the name of the line. 
Affinity is the connection between two people.  My connection with my customers is our passion for fashion and fitness. Hence the clothes are our affinity and AFFITNITY is the name of the line.
3) What was your first reaction when you first seen your clothing in a magazine?
The first time I saw my line gracing the cover of a magazine I was ecstatic.  I couldn't believe it.  It was truly a dream come true.  Now, when I see my clothing line on the cover of fitness magazines and fitness spreads it's a confirmation that the media is taking notice of AFFITNITY.  Having the stamp of approval from top stylist and editors lets me know that I am on the right track when it comes to fitness fashion.
4) How do you come up with styles and color schemes for your clothing line?
It's all in my head. Sometimes I sketch, but for the most part when I come up with an idea I immediately start cutting fabric and making the first sample.  I make adjustments as needed.  Then my idea becomes a best seller!  In regards to colors I try to incorporate girly colors and lots of blacks.  I workout regularly and I believe that black is the best color to get your sweat on!
5) What sets you apart from other activewear companies?
What I keep hearing from my fans and clients is that my clothes are different and sexy.  Oh and they fit like a glove.  I am not afraid to come up with designs that are going to stand out because they are different.  I know that not everyone is going to love them but my clothes are designed for a very specific client.  She loves fitness, she is in shape and she does not want to blend with everyone else. Well, guess what? Just like my client I am not blending with the other activewear companies either :).
6) What's next for AFFITNITY?
I want to continue spreading and empowering women with an activewear that is sexy and form fitting.  Our Blog and Facebook are filled with inspiration and fitness tips.  In 2013 we are going to start featuring our clients wearing AFFITNITY in our blog.  In addition, we are going to start sponsoring fitness enthusiast.  From fitness competitors, crossfitters, yogis and more!
7) Contact Info or links
Email: hello@affitnity.com
Website: http://www.AFFITNITY.com
Blog: http://www.affitnityblog.com
Facebook: http://www.Facebook.com/AFFITNITY