First Class Fashionista would like to invite you to shop:
Discount Designer Clothes
Discount Designer Shoes
Discount Designer Handbags
*BOOKMARK THIS SITE for Updates* Celebrity Sightings
Find and Buy Lipstick Jungle Season 2 Chapter 10 Designer Fashions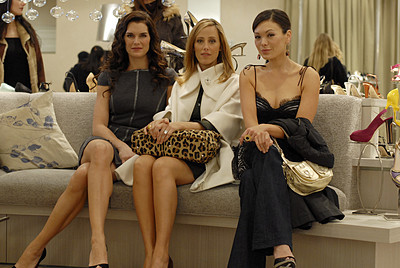 Here is where you can tell fans what you think. Share a comment with thousands of visitors…Let's talk story lines OR let's talk fashion. You start the conversation. *Copyright Protected. First Class Fashionista permits a direct link and credit.
Lipstick Jungle Season 2 "Let it Be" Highlights:
Victory:
Okay…It's official. It's serious between Victory and her contractor, Rodrigo. Victory tells Joe that she is over him and ends the night with Rodrigo.
*On this episode of "Lipstick Jungle," Victory wore a pair of lovely Stuart Weitzman pumps. Shop
Discount Stuart Weitzman Shoe Sale Cheap
Wendy: Noah dies and Wendy loses her job for forging her signature on the insurance form.
**On this episode of "Lipstick Jungle," Wendy wore a georgeous pair of Versace heels / shoes and carried a beautiful Cartier handbag. Shop Discount Versace Shoes Sale Cheap and Discount Cartier Designer Handbag Sale Cheap
Nico:
Nico is instructed by her new boss (Griffin) to write an apology letter to the magazines' advertisers. However, Nico disagrees with this point of action. "This will open us up to censorship," says Nico. Later, she writes an email to her boss but doesn't intend to send it- but a coworker secretly sends it for her. Ah ha…! The back stab works in her favor! Griffin publishes Nico's letter in the magazine. "I don't have to know all the answers, I just have to recognize them…It will get people to read the magazine," says Griffin."
*On this episode of Lipstick Jungle, Nico carried a classic Louis Vuitton handbag. Get the look and Shop Discount Louis Vuitton Handbag Sale Cheap
Mrs Merry Widow: Nico feels uncomfortable being seen with Kirby in public so soon after her husband died. This turns into a bit of a spat and she and Kirby don't see each other for a few days. Kirby returns one evening, they talk through Nico's feelings and spend the evening publicly.