Ten plus one day into the New Year, and so far I have no complaints. Over the last week I've been looking over trends we may be seeing for this year. Thinking about the color schemes, I'm trying to decide whether or not to start selling some pieces out of my closet. However, in the midst of making lists and spending countless hours on the internet, what stood out the most was the 2013 color of the year.
EMERALD: "Lively. Radiant. Lush…A color of elegance and beauty that enhances our sense of well-being, balance and harmony." Believe it or not, this color is basically my new year's resolution. Who knew a color could set you on the right track for the year? Thank goodness because—let's be honest, tangerine 2012 was not my color.
I will be embracing emerald with open arms in my home, daily activities and, of course, my closet. Here are my top five emerald pieces to get you started in the new year:
1. Emerald Earrings
2. Legging Jeans
3. Blouse
4. Sweater
5. Hat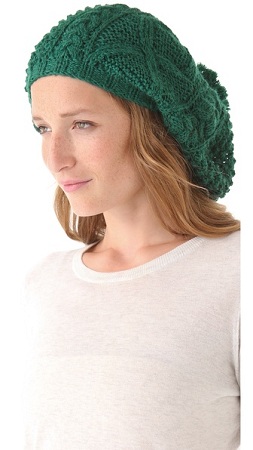 Shop hats here
How are you going to incorporate emerald into your wardrobe this year?
As for ways to bring emerald into your home check out this article from one of my favorite sites: Apartment Therapy 
Disclosure: This is a monetized post. Regardless, our team at First Class Fashionista only recommends products or services we use, will use or have used personally and believe will be good for our readers. We are disclosing this in accordance with the Federal Trade Commissions 16 CFR, Part 255 Guides Concerning the Use of Endorsements and Testimonials in Advertising. All opinions stated here are my own. In cases where we can not support a product, that product will not be featured at FCF.