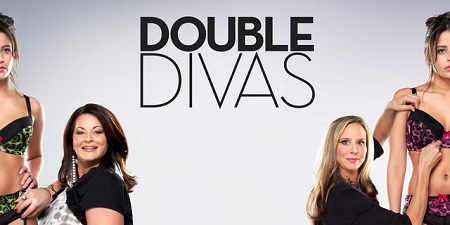 Every fashionista knows how important it is to wear a bra that actually fits. So when I was invited by Lifetime to watch a Double Divas sneak peek called "The Gift of Lift", I was all in. I have to admit I'm a reality TV show junkie anyway. I love to watch real people experience real life.
At LiviRae Lingerie in Atlanta, Georgia, best friends Molly Hopkins and Cynthia Richards are changing lives one bra fitting at a time. They say Molly is a saint and a boob whisperer. She has a need to help everybody, and can tell what a woman's bra size is just by looking at a picture. During the sneak peek, Molly and Cynthia visit a church in Decatur to fit the women of the choir so they can praise the Lord in dance while being supported by the Double Divas gift of lift.
Cynthia is referred to as the Thomas Edison of lingerie. Her specialty is the custom bra. She's on a quest to invent the first bra for men, the bro bra. Her ideal client would be a marathon runner. She says her bro bra would prevent chaffing, which leads to bleeding nipples.
This quirky reality show will keep you entertained! To watch the sneak peek, get bra tips from the Double Divas and more, visit www.mylifetime.com/shows/double-divas. Don't forget to tune into the premiere tomorrow, January 10th 10/9c. I'll be watching!!!

A Word from Lifetime:
This all-new docuseries will offer an eye-opening peek into the world of intimate apparel at Atlanta's renowned boutique LiviRae Lingerie, where the motto is: "No bust too big or small. We fit them all!" Boasting a hilariously unfiltered cast exuding Southern charm and hospitality, "Double Divas" follows LiviRae owners and best friends Molly Hopkins, the "boob whisperer," and Cynthia Richards, the "Thomas Edison" of custom lingerie, as they display their natural talent helping women with any and all intimate apparel needs. "Double Divas" premieres on Thursday, January 10, 2013, at 10:00pm ET/PT, following "Project Runway All Stars".
Disclosure: Compensation was provided by Lifetime via Glam Media. The opinions expressed herein are those of the author and are not indicative of the opinions or positions of Lifetime.