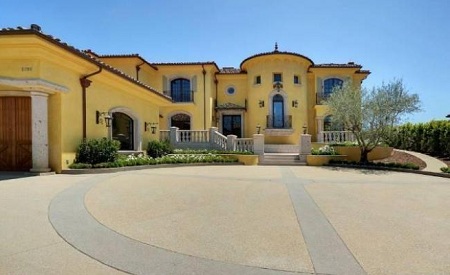 Kim Kardashian and Kanye West are ready to start their family in their $11 million mansion in Bel Air, California! According to a source, Kim is only six months away from becoming a mommy. The news of her pregnancy was announced during a concert in Atlantic City just before New Year's Eve.
Kim Kardashian is thrilled about the pregnancy. In her blog post she wrote, "It's true!! Kanye and I are expecting a baby. We feel so blessed and lucky and wish that in addition to both of our families, his mom and my dad could be here to celebrate this special time with us. Looking forward to great new beginnings in 2013 and to starting a family. Happy New Year!!! Xo."
With the recent baby news, it is no wonder the couple purchased the 10,000 square foot mansion. They are renovating the Italian villa style home to give their growing family an extra 4,000 square feet.
As the couple waits patiently for their home to be renovated, they are enjoying time in Paris. Shopping seems to be the order of business in Paris for the couple, as they need plenty of new items to fill their massive home. The $11 million mansion is located on the end of a dead-end street and includes: an indoor and outdoor pool, a gym, movie theater, full hair and makeup salon, bowling alley, basketball court and, of course, plans for a baby nursery.
The gated community that Kim and Kanye will be living in is just down the street from the homes of Jennifer Aniston, NBA star Chris Paul and "Girls Gone Wild" creator Joe Francis.