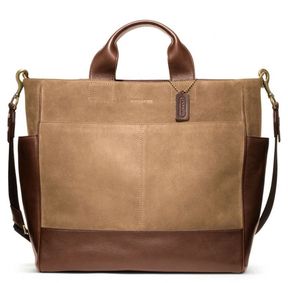 Alright, here's a topic that I'm slight nervous about covering as this topic tends to be slightly touchy amongst the fashion community. The question is: Are the "man purses" acceptable? This is such a polarizing issue in the industry. You either love or hate the man bag trend, which many consider feminine. Personally, I hate this trend. But I wanted to present all the sides and views of what I consider to be a rather odd trend, and let my FCF readers decide if the trend is "hot or not".
I think we really first started seeing the man bags appear on the scene a few years ago, and since then these accessories have been a hot topic for debate. Let me fill you guys in on what inspired me to write an article on man bags. I was shopping at the mall and this women was standing in line at the sunglasses kiosk buying a pair of really pricey looking sunglasses. I noticed that she had a particularly nice looking Calvin Klein bag, but as I got closer the women got taller and looked broader. Then upon noticing the short hair and the five o clock shadow, I realized it was a man. Yep. Now, I have no issues with effeminate male clothing nor do I even have a problem with androgynous clothing, BUT I THOUGHT HE WAS A WOMAN. I think androgynous clothing definitely has a place in the high fashion industry, but I'm surprised this trend was adopted into the ready-to-wear industry. I think this would be the main argument against these bags, they are highly effeminate and may cause a double take on your gender. Plus, if I had a dime for every time I heard a women complain about finding something in their bag I would be a millionaire. Guys…Come on. Why would you want that frustration? So, I think the con argument is pretty solid. These bags hold no significant purpose in being fashionable or functional. However, the one counter argument for these bags is that they are a huge status symbol.
Some people, like most celebrities, use fashion as a conduit in which to show off their social and financial statuses. These man bags are a statement of both. Whenever I see the man purse, never have I seen a lower end brand. All the man bags that I've seen are always designer brands, and very high end and expensive looking. The most recent one I saw, besides the Calvin Klein one, was Gucci and True Religion. So, I suppose, if you're a male who has copious amounts of things to carry around and a need to show off your social status, then the man bag is perfect for you. I've also noticed in my travels to different cities around the US that many tourists from Europe carry them.
Disclosure: This is a monetized post. Regardless, our team at First Class Fashionista only recommends products or services we use, will use or have used personally and believe will be good for our readers. We are disclosing this in accordance with the Federal Trade Commissions 16 CFR, Part 255 Guides Concerning the Use of Endorsements and Testimonials in Advertising. All opinions stated here are my own. In cases where we can not support a product, that product will not be featured at FCF.