Clothes Minded: Dressed Up
I am a FIRM believer in "there's no such thing as being over dressed" but living in Denver, I know that I am one of a few with this ideal. Since most girls would not feel comfortable wearing complete dressed-up attire in a casual atmosphere, I'm going to show you a way to wow people with style and still avoid looking over-done. I'm talking about dressy-casual, and this is currently one of my favorite juxtapositions. You may say "that's old news", but there are tons of fresh, current ways to update this blended style, making it look like a new trend. Below are seven look collages, I have created to illustrate the different ways in which you can tailor this idea to your personal style.
This is the perfect combination for you if you are a sporty, laid back kind of girl. Here, I mixed a classic, peplum blazer with black jeans, chucks and a Supreme hat. This look gives you the ability to add an edgy spin on dressy casual, and I think it is a PERFECT example of blending two opposite ideas.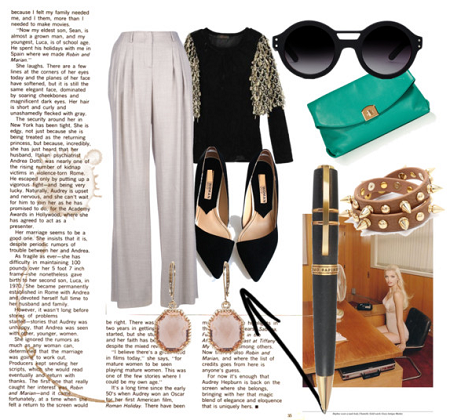 Wide-legged trousers are my favorite way to dress up without looking too stiff. With a touch of 70's inspiration, this is a great outfit for the office. It's a bit on the dressier side, but with the baggier pant, statement clutch, and spiked wrap, this creates the perfect way to dress down a professional look. This outfit can take you straight from the office to happy hour, without a single fix.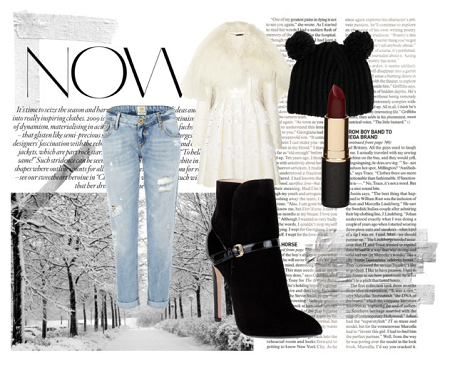 This look is more on the casual side, but something as simple as a fur-collared pea-coat and stiletto booties can dress it up. This is a look that says, "I know how to look dressed-down without failing to look put-together." I love this pom pom beanie from ASOS. It's a cute little change from regular, winter hats.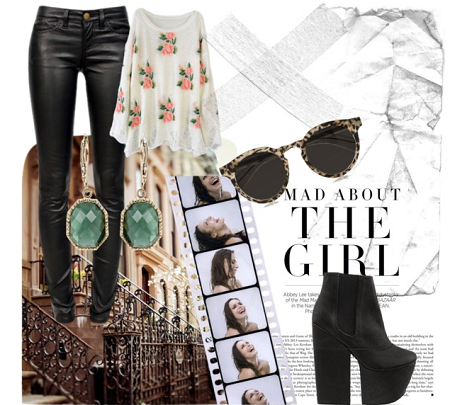 This is a girlie spin on a leather pant. With a cotton legging and flats, this look would be casual altogether. With these JC booties and a pair of leather-look jeans, you can dress up almost any sweater. I would also add a pair of cocktail earrings like the ones in the collage, just to give it one more done-up touch.
This is one of my favorite combinations. Lately, I am a huge fan of minimal and this outfit is just that. Without the shoes, this outfit is super casual. Adding these gold pumps, adds a flair and a bit of dress to this look. It's perfect for daytime, but throw on a blazer or cool jacket, a clutch, and some bright lipstick, and you're ready for a night on the town.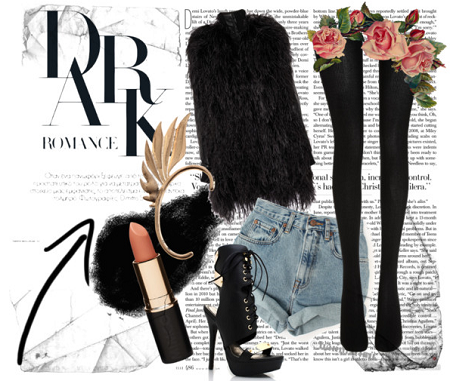 Denim…Denim is my favorite and the most obvious way to dress an outfit down. This exact outfit could be dressy with a slight change of a skirt or suit-shorts. Chic, put-together and simple, this outfit speaks volumes. I added the tights because I made this as a winter look, but drop the tights, change to a light-weight jacket, or band tee and this outfit is ready for any season.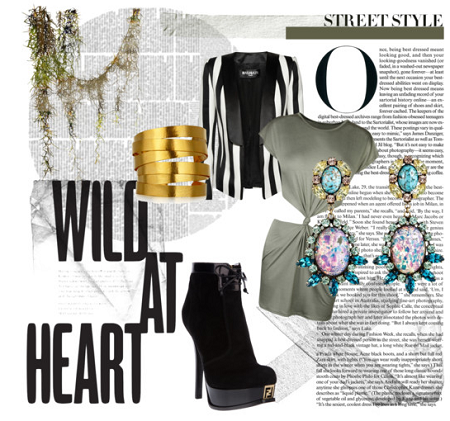 This is not an outfit that could be worn in the average office environment, but it is on the dressier side. Cocktail hour, a fashion show or new gallery opening, are just a few of the places you could rock this edgy look. I chose to pair it with a light, moss-colored, cotton, tee-dress, to dress this vertical-striped blazer down, but you could pair it with almost any cocktail dress instead and boost the look up. The earrings and bangles add a bit of umf to this monochromatic outfit, but there are endless options for color.
My favorite part of the dressy-casual combination is that you can swap out one or two items and completely shift your look, instead of changing your whole outfit. You can take your day outfit into night as easily as applying some red lipstick (which you should be doing already).
To wrap things up, here are some key things to have in your closet all the time to pull this off:
Skinny jeans
Wide-legged pant
Black pumps
Black booties
Statement jacket
A pair of converse
Black blazer
Bangles
Pair of statement earrings
High-waisted jean shorts
Colored clutch
Black tights
And faux or real, leather pants
Also, wearing your hair in a messy bun, or beach waves can down play any dressed-up look as well. I hope this inspires you to mix these two opposite styles, and I hope you learned a little something about combinations!
Until next time,
Chelsey