One of the most important days in a person's life is their wedding day, and besides the dress and the actual ceremony, there's one more element that is a standing tradition for most soon-to-be married couples, the rings. Since I primarily focus on male fashion, I decided to write an article helping those young couples who are picking out the ring for the guy.
The traditional wedding ring for men consists of just a gold band, boring. Just because we're guys doesn't mean we can't wear rings with a little sparkle in them. I think every set of wedding rings should be unique to the couple. That's why I detest shopping for symbolic jewelry. Some people fork out thousands of dollars for their wedding rings and, really, if you're going to shell out that kind of dough you might as well get a set of rings that are custom made. Knowing that you designed it together, the symbolism of the bands grows exponentially. However, if you are a young couple just starting out, I realize you probably don't want to spend your entire life savings on the rings (she still needs a dress). For those of you who decided on custom wedding bands, below are a few things for you to consider.
1. Birthstones– I'm always a huge fan of birthstones (probably because I'm a diamond). It would be a twist on the rings if the bands consisted of your partner's birthstones. This is probably the easiest form of customization, but it certainly makes it personal since it's based on the month you were born. I think other forms of birth signs might also be a cool addition to the wedding set. For example, if an engraving was done on the ring of your partner's zodiac sign. This falls under my next customizing tip.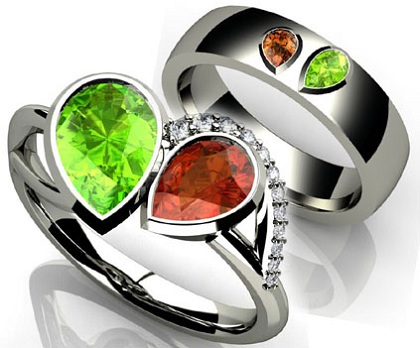 2. Engraving– a popular form of customization of wedding bands. This one really allows the bands to be a symbol of your relationship. I have a mini story to tell you guys about how awesome engravings can be. So I think one of the most romantic movies of all time is The Princess Bride. There is a reoccurring line in the film that is said to the princess from her lover. The line is: "As you wish." This was the very line that a very close family friend and his wife had engraved on their wedding bands. This forever defined there relationship by the romanticism of this film. But engravings don't always have to be quotes, they can be names, symbols, and other types of pictures. I think that if you are planning on engraving any rings for personalization purposes you should think long and hard about what is to be engraved.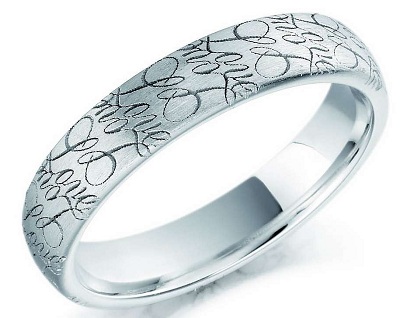 3. Don't do rings– I think rings are great and they are a tradition that many tend to stick with. However, for those of you who get bored with tradition, then show your undying love and affection in a different manner. My grandfather had his wedding ring melted down into and Italian horn, a small pendant shaped like a bull horn, and wore it on a gold chain around his neck every day. I think anything you choose can symbolize your love. One thing that I've been noticing recently are the ring tattoos. Since tattoos are becoming more main stream, more and more of these wedding tattoos are popping up. Again, just like any type of customization, you must think very hard about what you are tattooing. But I think going against the grain and not doing rings are just as effective in expressing love and devotion as doing wedding rings.
4. Heritage– Cultural rings are some of the most gorgeous rings one can find on the market today. And if you are proud of where you come from, then why not include elements of your culture in your wedding band. The most popular cultural symbol that is recognized everywhere is the Irish symbol called the "claddagh". The symbol is two hands holding a heart with a crown on top and depending on which way the point of the heart is facing when worn, tells of the women's current relationship status. Pointed outward, single, pointed toward the body, taken. This classic symbol of Irish courting would be perfect for a wedding band.