Today I took a trip up to New Jersey to visit my friend. Unfortunately, the weather has continued to be gloomy and rainy on the east coast, so I decided to dress for the mood. Even on a rainy day, some people still like to dress up but I like to be comfortable.
There's nothing like a nice pair a Lululemon leggings for travel and a dreary day. I paired the leggings with what I call a faux pajama shirt. This look is a newer one for the season and very unique. Whether it's a real silk pajama shirt or a look alike, these tops look great with leggings, jeans, or even a pencil skirt. This is another versatile piece to work into our wardrobe for the rest season and into spring. To finish the layering, I added a pair of knee socks under my boots and topped the look of with my favorite infinity scarf.
How do you dress for a rainy and gloomy day?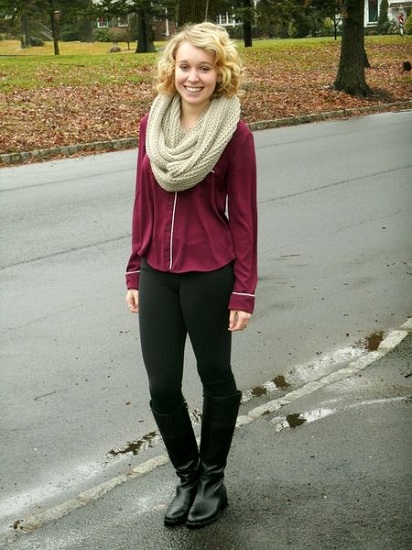 Check out my latest vlog on tips for traveling light. Thanks for watching!