Stylish Body Shaping Insets are a MUST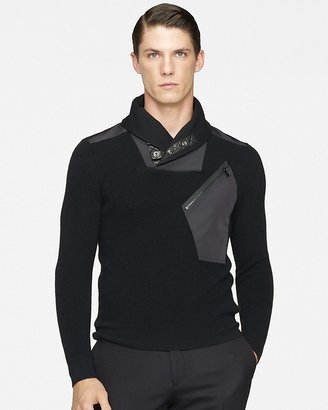 Insets. The name of the game right now in ready to wear fashion is insets. I've noticed recently that there have been a preponderance of patch work on men's clothing. Now, I'm not talking about grandma quilting, I'm talking about inset portions of a garment that are a contrasting fabric or color. Before this trend of putting these patches on as fashion garments they were most commonly seen on motorcycle jackets and garments that could possibly be put under large amounts of stress. For example, on vintage suit jackets you might see a patch on the elbow of the garment, this is to add reinforcement on the garment so that it doesn't tear in that high stress area. In the fashion industry when one refers to an area as a "high stress" area that refers to the amount of wear and tear on that particular area. Now, however, these have become less functional and more for aesthetic.
My personal opinion on this trend is…LOVE. This trend has added a whole new element of design which can spice up the mundane wardrobe. Seen on many celebrities, patch work has become a statement for the fashionable individual. One of the main reasons I love this trend is the body shaping factor. Traditionally, using clothing to give the illusion of a certain body shape has been handled by women's fashion. Since women have several different body types, they have more options from which to choose from. However, men have really two coveted body types: square, and inverted triangle. A square being similar measurements of the shoulders, chest and waist, the inverted triangle being broad shoulders, slightly smaller chest, and still smaller waist. I would say that the inverted triangle is the more "wanted" figure. But since not all of us are born with exact body proportions, we use clothing to create illusions of a different body shape, enhancing and hiding our features. The perfect example of this is the shirts with shoulder insets. This will draw the eye's attention upward to your shoulders. Done in a contrasting fabric or color, your shoulders could look broader than the rest of your body, creating that inverted triangle illusion.
The other reason I am pro-insets is, they add that splash of fashion flair to a boring basic. Some people, men especially, have trouble accessorizing properly, so they either over-accessorize and look tacky, or under- accessorize and look bland. But insets, be them on the shoulders, on the waist, knees, or elbows, gives a nice pop to a normally blah basic. So guys, if you want to spice up your wardrobe without having to stress over accessorizing, you NEED garments with insets!