Wedding season is right around the corner, and so there are many brides to be out there skimming through magazines, going to bridal stores, and sampling cake. When a bride is getting married, her main motivation is to share a day with the person she loves that can be remembered for the rest of their lives. Each bride wants their wedding to be unique, a day that will stand out and impress family and friends. Below are a few of the different trends and inexpensive traditional touches a bride can do to make her wedding day memorable.
Cowboy Boots
If you are planning an outside wedding, have your bridesmaids wear solid color dresses and cowboy boots. This was seen a lot for spring and summer weddings last year and, certainly, will be a big trend again. The cowboy boots really give a laid back fun feeling to the wedding so that your guests can really let loose and celebrate with you.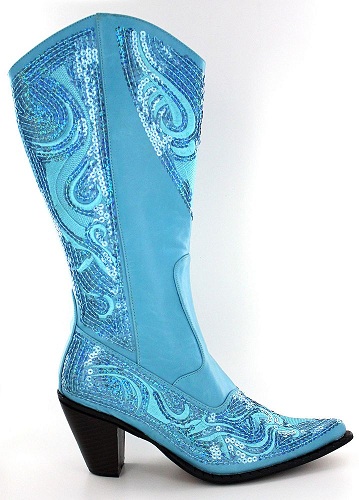 These are from David's Bridal. Another great website for amazing cowgirl boots is Country Outfitter. This site has every color and style that could work well with any bridesmaid dress.
Beaded Belts
A beaded belt is definitely a great thing to wear on your wedding day. This can make your wedding dress stand out even more and make you feel glamorous.
Hair Accessories
Hair pieces can turn an every day hairstyle into a wedding day hairstyle. Even a small beaded flower can give your up do a great look.
Nina Maize Birdcage Veil, $130

Tasha Crystal Garland Headband, $98

Tasha Flower Pin, $38

The Rehearsal Dinner Dress
During the rehearsal dinner just remember to stay calm and have fun while all your family and friends are there. Getting dressed up for rehearsal is also a must, and it is the last night to do so before you begin a brand new chapter of your life. Make the most of it and enjoy your surroundings with the people you love. Find something that's flirty and fun, and shows off your personality.
Xscape Embellished Waist Chiffon Gown, $195

White with a sweetheart neckline, a silver beaded belt and hi-low hemline, The Xscape Embellished Waist Chiffon Gown would look great for a formal dress rehearsal.
Ted Baker London Telago Embroidered Tulle Frock, $825

This cream lace dress is absolutely gorgeous and would look great with a pair of nude pumps or cowgirl boots. This dress will for sure impress your groom to be.
Photo Ideas for the Big Day
1. If the bride decides to wear cowboy boots as well on the big day, she can right "I do" on the bottom of her boots and this creates a great "After photo".
2. Purchase a wood framed sign and write your wedding date on it, and include it in photo opps. It's not only really cute, but your wedding date will be commemorated with every photograph.
A woman's wedding day can pass by in a blink of an eye. The best advice I can give to anyone is enjoy every minute of it and take pictures of everything. There is always a way to make your wedding day exactly what you imagined it to be, so dream big and plan well.