Last Saturday I had the pleasure of dancing in the halftime show with Bay Area legend E-40 at the 49ers and Packers game. It was so much fun. Despite only having 4 days of rehearsal, we managed to pull together 82 dancers (ages ranging from 10 up) and put on a great show. Last year I performed as well. And, after spending so many years not dancing my body was in pain. My ENTIRE body hurt like it was nobody's business. I do miss dancing and performing because it was an expressive outlet for me.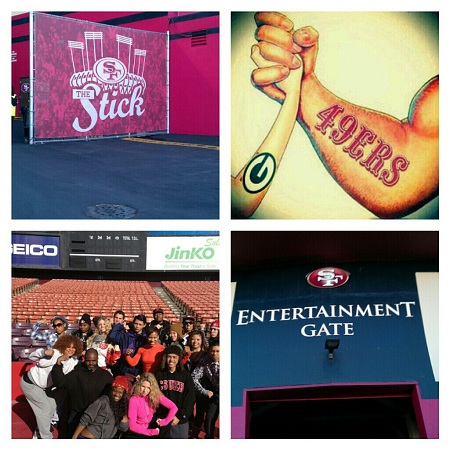 We had to be at the stadium at 11:30am and the game didn't start until 5pm, which meant we didn't get to perform til almost 7:30pm. Talk about a long day. We spent a little over 2 hours on the field just going over formations and transitions in the midst of Gold Rush Girls and Niner noise (drummers). I thought we would have enough time to switch formations but that wasn't the case, we had to dance ALL OUT and then run to our next formation. By the time we were finished I thought I was going to die because I couldn't breathe. Sidenote: I'm an asthmatic. The performance turned out to be a success! Check out the video below. I wish I had taken more pictures but my phone had died.
I wish the San Francisco 49ers much success this weekend in the NFC Championship, and hope that they can continue their Quest for Six by advancing to Super Bowl 47.