I have never been a huge fan of jeans. The reason being, my body shape. I am a petite girl, but I have a small waist, larger backside, and larger legs. Until recently, I never really found a pair of jeans that flattered my shape and made me feel sexy in denim. I'm sure that I'm not the only woman out there with that issue, so I figured this would be a great article topic. After extensive research and pulling my own personal fashion knowledge, I now present you with the perfect jean fit for each body type. Below are six collages that I created to show you some denim that will compliment and flatter your body shape.

First, if you are not too sure about which category you would fall under, here is a great measurement guide. The bust is the largest point of your chest, the waist is the smallest point (usually one inch above belly button), and the hip is the highest point of the butt.
Hourglass– Small waist, and almost equal measured chest and hips

Pear Shape– Small waist and chest, larger hips and butt

Athletic– Larger shoulders and chest, narrower hips and waist  (Think apple)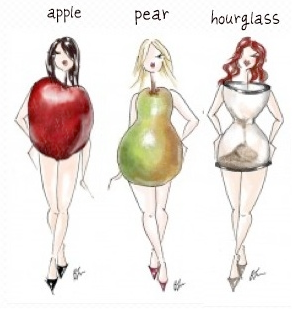 I have also included jean recommendations for Plus-sized, tall and thin, and petites.
Here we go…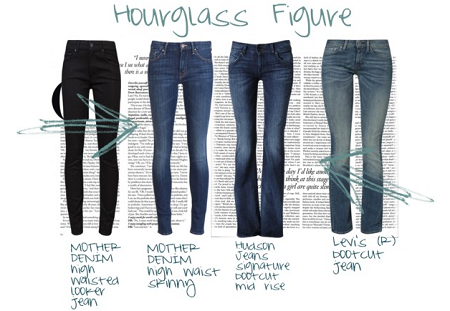 High-waisted jeans are shaped to fit an hourglass figure. The waist is smaller and it rounds out at the hips. When you wear lower-cut jeans, they tend to be too tight in some places, and loose in others. Although, if you truly have the time to shop around, you can find great fitting lower to mid-rise denim. If you are trying to minimize the drama of your shape, stay away from skinny jeans, they taper more, thus define the hourglass.
I have this shape and my personal favorite jeans are the BDG High-Rise Cigarettes. They come in so many colors and fades and they are well-priced. Fading is always a great thing as well if you are shorter. It gives the illusion of length.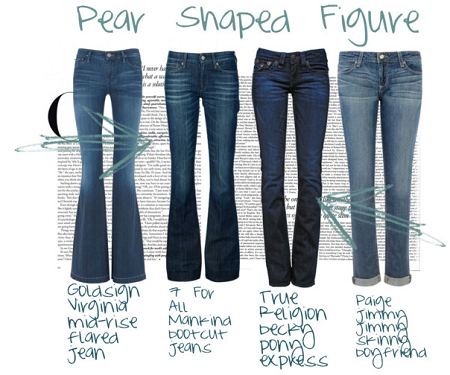 If you are pear shaped, it's almost the same as being hourglass shaped. The only differences being, your top half and your waist may not be a tiny. To flatter your body the most, try and avoid tapering…This means skinny jeans. Unless you are taller, this can make you appear very short and a lot shapelier than you may be. It will also enhance the pear shape more. If you want to avoid doing that, flared or trouser-style jeans give more shape to your legs and take away attention from your waist. Darker washes are also best.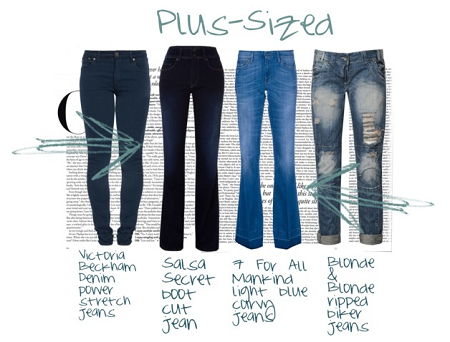 For plus-sized girls, avoid a lighter wash jean. This actually goes for any girl with curvier areas, because lighter fabric enhances trouble spots and highlights every bump and curve. If you are tall, a flare jean is a very flattering shape for you. If you are a bit shorter, straight leg or trouser is best. High-waisted is the way to go because it tucks everything in. And, obviously, anything with stretch is great.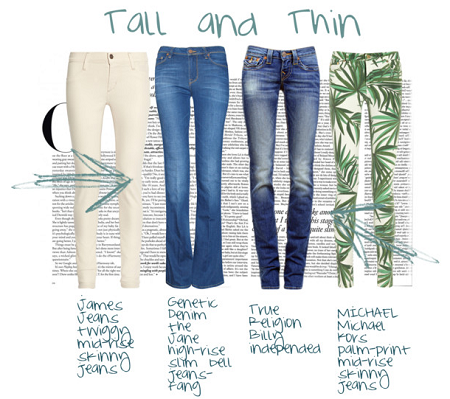 If you're tall and thin, pretty much any jean looks great on you. So, yay! My only suggestions are to avoid vertical stripes, because they add more height Unless you want to look even taller, go with a horizontal stripe. Horizontal stripes can actually fake width if you are very thin. Cuffing is another great thing to add shape.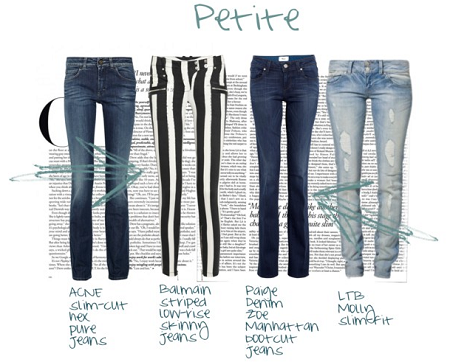 STRIPES! If you are petite, you can rock stripes because they add height. Although horizontal striped add width, avoid them because they will make you appear even shorter. Slim-cut jeans are also your friend. If you want to wear skinnies, pair them with some heels to avoid shortening.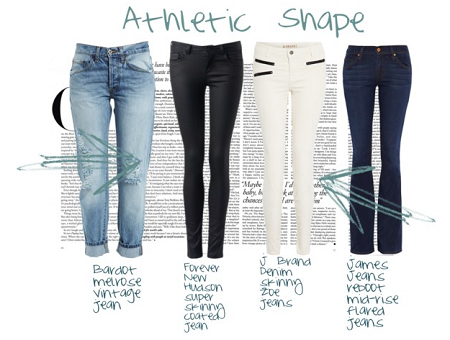 Boyfriend jeans are perfect for you if you have an athletic build. This specific cut can fake volume and distract from a lack of hips. Straight cuts rather than skinnies are better as well because they don't pull your bottom half in even more. Bell-bottoms are great because they add more dimension.
Some other tips for every girl:
•If you have a smaller butt, avoid large pockets, this will only emphasize that more.
•Small pockets that end mid-cheek, allude to a rounder tush.
•Bigger butts, stay away from smaller pockets and low-rise jeans, no one likes butt cleavage!
•When wearing heels, try and avoid straight-leg denim unless they are longer. This covers the heel and makes your legs look leaner and longer.
•Skinnies go with any heel and flared jeans require a wedge or platform.
One last thing: I have found that Levi's does a little questionnaire, so you can find your best fitting jean by Levi. Here's the link:
http://us.levi.com/quiz/index.jsp
Hope you can find the perfect jeans now!
Until next time,
Chelsey