Spring 2013 is going to have a lot of edgy new trends, but one of my favorites is black and white. I LOVE wearing black and white, it's timeless and is overall very classy. I am super excited about the return of this trend. It's going to be really big this year. Marc Jacobs, Michael Kors, and Calvin Klein all had black and white pieces on the runway. Named "between the lines", these garments were black and white with some sort of stripes or lines. Sheer fabrics and cutouts can compliment the look, and are also really in.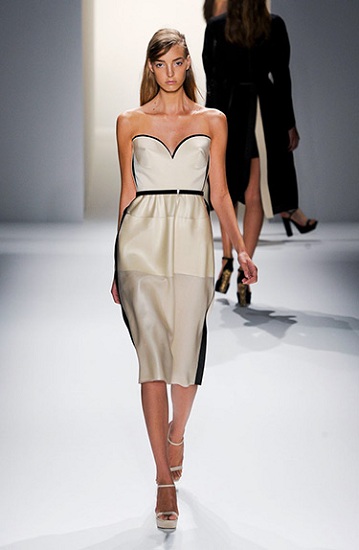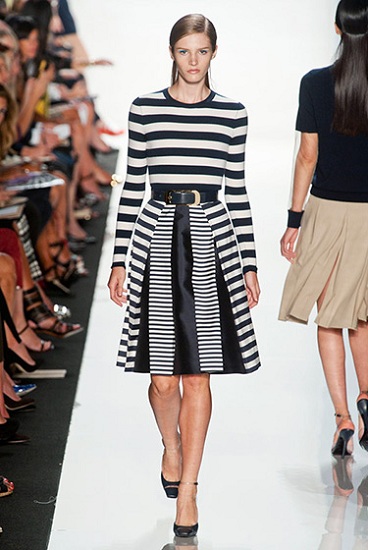 Now, I have to say that I'm not into a lot of looks straight off the runway, but I love the concepts and you can really turn them around. Use the trend and make it your own—Wear it the way you want to! For example, I really like all black outfits, and I would likely pair all black with a black and white patterned purse to make it pop.
Dsquared Matelassé Nappa Leather Jacket, $2,565

Pricey, but I love this white leather jacket; pairing it with a black sheer shirt, black jeans, and a black and white purse would look amazing.
ASOS Body With Extreme Sweetheart, was $48.29 now $17.25

Like I mentioned, "cutouts" are going to be in, so this ASOS Body with Extreme Sweetheart will look great with the leather jacket and black jeans.
Brooks Brothers Large Calfskin Satchel, $598
Finally, if you pair those two pieces with BLACK PANTS and a purse like this, your outfit will be complete and you'll look really classy.