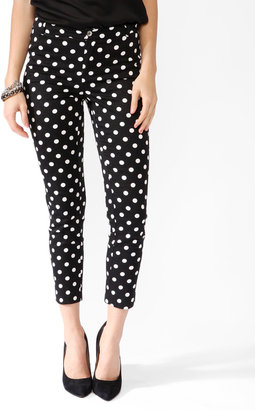 For many of you, your first day back at school was last week. However, the lucky ones may have started today. Well, on Tuesdays I don't start class until noon and found myself with the end of break blues. In result, I woke up late and wasn't able to make the fashion statement I hoped to make today.
So all day I've been planning my comeback, thinking a perfect first week outfit. Originally, I was thinking Audrey Hepburn slim black pants and a striped shirt, but the number of striped shirts I've seen on campus is out of control. After quickly abandoning this idea, my mind immediately wandered towards polka dots.
I may be a little late in the fashion world when it comes to the polka dot trend, but styles seem to be grow on me over time depending on my mood. Mixing prints and colors and wearing pajama style shirts in public is very "in" right now, and has never been so much fun. In this moment, it seems almost acceptable to mix any color or print. That being said, be conscious in your mixing and matching.
Concluding my first day of second semester fashion thinking, I found myself inspired by Solange Knowles, polka dots, and the idea of working through this semester inconceivably calm. Below is the look I came up with. Happy shopping fashionista!
Blu Moon Blazer, $142

BCBGMaxAzria Colorblock Tank, $62.99

Forever 21 Polka Dot Pants, $16.50

Madewell Sidewalk Skimmers, $108

Keep an eye out later this week for my rendition of "the ultimate first week of school outfit". And, for your own dose of style inspiration check out Solange Knowles's outfit diary over at Vogue.UK while listening to her EP "True" found on iTunes or Spotify.
What inspires you to mix colors and prints when dressing for an occasion?