Pastels for Spring
Who is tired of winter and ready for fun in the sun? Well the weather may still be cold out, but there is no reason why we can't start imagining ourselves in a cute spring outfit dancing around in warmer weather. Ladies and gents, I think you will be surprised to see a whole new color pallet for this coming season. Pastels were first introduced for spring / summer 2012, but promises to be one of the biggest trends this spring. Pastels are both seen and worn for a short period of time in spring, usually around Easter, but things have changed. Floral prints, mix and matched pastels, and flared dresses are some of the trends women everywhere should be shopping for.
Flared Dresses
Flared dresses were first introduced in the 1950s and designers have enjoyed creating new versions ever since. This look is classic and will remain flawless for centuries. Flared dresses can be found at lulus.com. There a few different dresses that have the combination of mint green and white. The combination of these two colors can look great on any skin tone.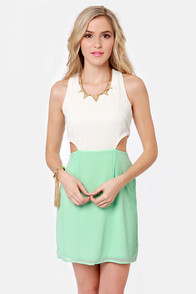 Bold Floral Print pants
Floral pants were big in the early nineties and recently have been re-established in fashion. There are a lot of retailers selling bold floral print shorts. This is such a great look especially with the right blouse. It's great how floral prints are not only seen on blouses now, but on pants as well.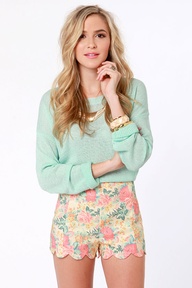 Mix and Matching
Mix and Matching Pastels is a great look that pretty much anyone could pull off. Gap currently has a lot of fantastic colored skinny jeans. Skinny jeans are always great to have in your wardrobe because they can be worn with flats, wedges, or heels.
Accessorize with Pastels
Find accessories that are bold and may or may not match what you are wearing. It is okay to mix and match your accessories with an outfit even if they are not the same colors. Big Boyfriend watches can pull a casual outfit together. Also, find a great pair of earrings to bring together the colors of the dress. This can make you feel more polished and glamorous for whatever spring event you may be attending. The accessories below can also be found on lulus.com.