First Class Fashionista would like to invite you to shop:
Discount Designer Clothes
Discount Designer Shoes
Discount Designer Handbags
*BOOKMARK THIS SITE for Updates* Celebrity Fashionista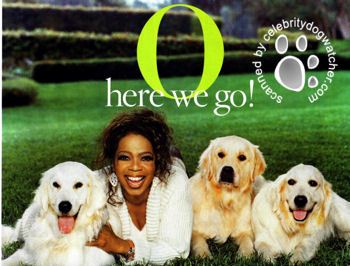 Oprah's beloved dog, Gracie, dies due to fatally choking on a plastic ball. Golden Retriever's are notoriously oral. My Golden's favorites includes socks, underwear, and washcloths. On two separate occasions, I've had to take Malcom to the Vet after noticing the very apparent symptoms of having one of the above items lodged somewhere in his digestive track. The last trip was very disturbing! The Vet wanted to perform surgery! Ultimately, my family and I feared for the health of our very important member of our family. Questions included;
How will surgery effect his vitality? Will it shorten his life span?
Thankfully, we decided against surgery and took him home with a very grim warning…"Bring him back by morning or he will die". That evening, Malcom was walked around the block at least five time, his belly was rubbed in a downward motion and he was continuously encouraged to eat and drink. The very next morning the object was passed. We believe that Malcom has angels looking out for him.
Leave a comment. Tell our visitors about your personal experience.