Make your workout attire look fierce with Nike Free
I have always been an athlete, and playing volleyball at Texas State really keeps me busy with workouts in the morning, then going straight to class, and then back to my dorm to do homework…So my style lately has been athletic and comfy during the week, and then fashionista on the weekends. With that said, I am always wearing yoga pants, tennis shoes, and an athletic shirt to class, but workout attire can still look really cute! I have been obsessing over Nike attire lately, especially with their shoes, and I think all the color options, as well as the comfort level that they offer is nothing short of amazing. For example, all over the internet I have been seeing the Nike free 5.0 V4 white leopard shoes, and they are to die for. I would wear them everyday if I could but I think that these are a must have if you're going to go out of your way to buy good workout shoes. First off, they are extremely comfortable and, second, they are adorable, and would look good with any sporty outfit. They also have a black and grey version, but I personally prefer the white ones.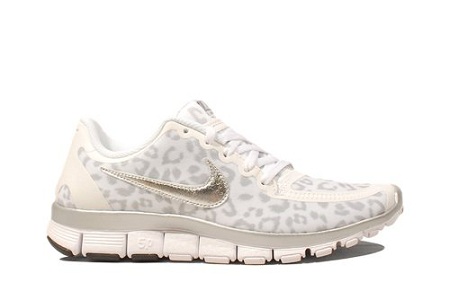 You can buy these on Amazon here http://www.amazon.com/Nike-Wmns-Free-5-0-Leopard/dp/B009UW3ML8 for $220 they are pretty pricey but I think for shoes like these they are worth the investment!
Let me know how you like them, or even if you buy them and love them!