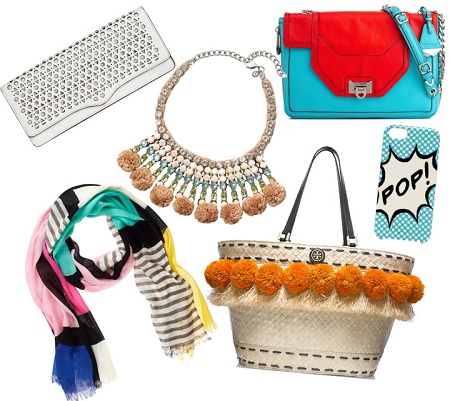 It's no secret that the Spring 2013 runway was all about color, bold beautiful designs and fashion forward styles that had us dreaming of warmer weather and Summer days. The counterparts to the fabulous designs were no exceptions. Clutches, statement necklaces and sleek hats were also showcased in an array of vibrant hues.
Designer Kate Spade embarked on her 20th anniversary with a Spring line that gives Lichtenstein-style comics a fashionable nod. Scarves and clutches are brought to life in shades of neon pink, powder blue and black and white. I couldn't help but fall in love with her fun hashtagged shopper bags and ladylike necklaces.
Cult favorite, Rebecca Minkoff never ceases to amaze us with her sleek city pieces, all of which are practical for the modern women! During her Spring/Summer presentation Minkoff transported us to tropical paradise with floral prints and dreamy color combinations. Models donned woven Mini Macs and Mini Box bags in teal and red. Perforated leather pieces in stark white were easily one of our must-haves for the season!
Her gold double T emblem is already known world-wide and a personal favorite embellishment on my leather flats; yet Tory Burch has found another way to make us lust for her accessories. Burch severed up an array of tribal inspired pieces in her latest collection, an influence that is apparent from her worldly travels. Intricately beaded sashes adorned with shells, crystals and beads are not only made for the head but also for the waist. Beachy totes and clutches made of woven raffia are the perfect day to night vacation bags.
What accessories are you most excited to wear come Spring?