Style is not all about clothes, it's also about how you accessorize. Honestly, I've never been much of a jewelry person. I always felt that bracelets got in the way, rings just got scratched, and unless you own a couple dozen necklaces there was no point. But as I got older and began learning the art of accessorizing, things began to change.
My current obsessions are rings and bracelets. Rings can be so much fun and can be added to any outfit. It's easy to stick with gold and silver rings, but pick ones that have a special feature. Whether it be colored jewels or funky shapes, rocking four to five different fingers is a full house.
Who doesn't love an arm party? Some say this concept is overrated, but I disagree. You don't need one hundred bracelets on each arm in ten different colors. Stick with neutral colors; gold and silver is my choice. I start with one bracelet of each color that is versatile and can go with almost anything. Like clothing, there is a such thing as staple jewelry. From there you can add bracelets like the first, but with variation in textures and embellishments.
Don't know where to begin your collection?
My favorite jewelry store is Brighton Collectibles, they have everything. At mid-range prices you can get beautiful, unique bracelets and rings. My color studded ring, gold and silver band, and crystal rocks bangle are from here. For jewelry less permanent and more in the lower price range, Charming Charlie has every jewelry item you could imagine, in every shape and color. Lastly, if you are a thrifter and love a good find, where better to start than the thrift store? What, what!? (I hope some of you started singing thrift shop in your head).
In the picture with the blue sleeves I am wearing a chain bracelet ring that was a gift. In the picture with the burgundy sleeves (from left to right in a U shape): Bejeweled bracelet – Brighton, tribal bracelet – World Market, color studded ring – Brighton, crystal rocks bangle – Brighton, mustache man ring, Thrift Shop, Vintage bracelet – Alex and Ani, star bracelet – Gift.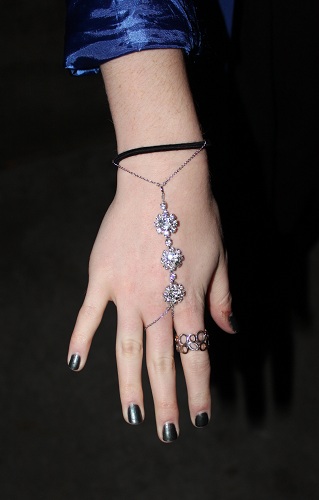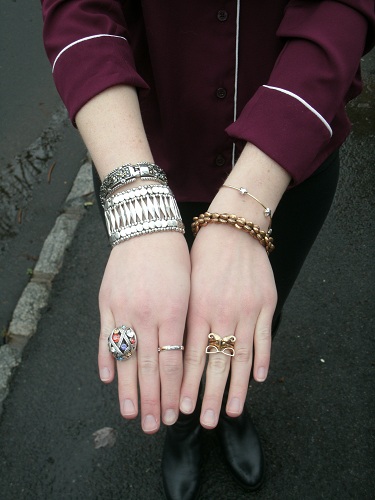 Happy accessorizing!
And, keep an eye out for a new vlog post coming early next week!